Gujarat polls: Kejriwal claims 'stones pelted' at Surat roadshow, police deny
Nov 30, 2022 05:57 PM IST
The incident reportedly happened in Katargam locality this evening where BJP workers heard chanting "Modi, Modi", apparently interrupting the Kejriwal's convoy at the roadshow.
Amid the Aam Aadmi Party's carpet bombing campaign for upcoming Gujarat Assembly election, a scuffle broke out on Monday between supporters of AAP and BJP during Delhi chief minister Arvind Kejriwal's roadshow in Surat. The chief minister, who is also AAP's convenor, claimed that his convoy was attacked and stones were pelted at him during the event. Police have, however, denied the occurrence.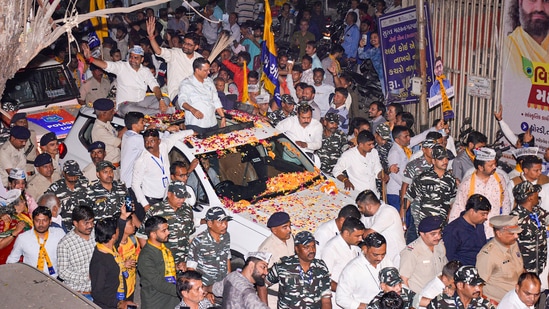 The incident happened in Katargam locality this evening, as per a PTI report, where BJP workers heard chanting "Modi, Modi", apparently interrupted Kejriwal's convoy at the roadshow.
"When we were moving, their (referring to BJP) supporters threw stones at us. I was thinking had they done any work in the last 27 years they would not have needed to throw stones. I would like to tell them it is Kejriwal only who will waive their electricity bills, teach your children, and offer you flowers in place of stones," Kejriwal was quoted as saying by news agency PTI during the rally in Surat.
"AAP is the party of 'shareef' (decent), patriots, and honest people. I am an educated person and will build schools for you. If you have to indulge in abusing others then go with them," he said, adding that he was here to make a good society and not indulge in hooliganism.
According to Deputy Commissioner of Police Pinakin Parmar, Kejriwal was given Z-plus security with Central Armed Police Force (CAPF) personnel.
"The rally passed off peacefully. No incident of stone pelting took place. A minor scuffle broke out between party workers but the police controlled the situation… I was present on the spot. The accused was raising slogans of 'Modi-Modi' during Kejriwal's rally, so he has been detained" he said, as quoted by agencies.
Earlier in the day, Kejriwal exuded confidence about the polls next month saying there was a huge craze for the Aam Aadmi Party among women and youth in Gujarat. He was addressing a gathering after his interaction with diamond traders in Surat.
Kejriwal claimed that his party will secure a majority in the 182-seat Assembly and that the traders will also vote for AAP even if they don't openly admit it "due to the fear of the Bharatiya Janata Party (BJP)".
"The AAP will form the next government. We will win more than 92 seats," he said.
Gujarat goes to polls in two phases on December 1 and December 5. The counting of votes will be held on December 8, along with that of Himachal Pradesh.
(With inputs from PTI, ANI)