Anu Aggarwal recalls being in a live-in relationship where boyfriend's mother also lived with them
Jan 11, 2023 07:26 PM IST
Anu Aggarwal has spoken about how being ahead of her time destroyed her personal life. She recalled being misunderstood when she was in a live-in relationship.
Former actor Anu Aggarwal has responded to a question about whether she thought she was ahead of her time in her younger days and how it affected her personal life. In a new interview, Anu said that it destroyed her personal life. Anu recalled that she was in a live-in relationship with a person and his mother had also accepted her. (Also Read | Anu Aggarwal recalls walking out of project as they tried to make her look fair)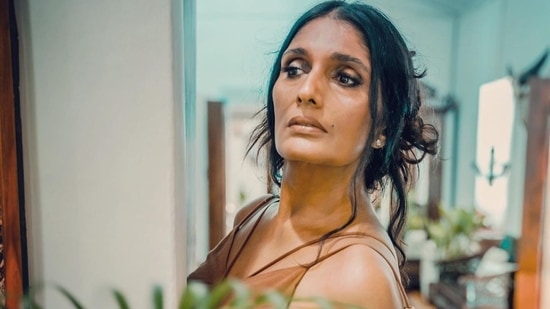 Anu also said that later 'things were written about' her and people believed it. She said that there was no way that she was able to protect herself. Anu added that though her personal life took a 'real beating', her work life 'boomed with the personality' she had.
In an interview with Indian Express, Anu talked about being ahead of her time, "I've definitely been. When I went to Cannes in the 90s, people asked 'Cannes kya cheeze hoti hai (What is Cannes)?'. I've been a forward looking girl. And I believe how the whole society works is two fold, 'jitna acchha hota hai, utna buraa bhi hota hai (the good and bad are in balance). I could have been this totally different girl doing movies, but what happened is that it affected my personal relationship very negatively."
Talking about her personal life, Anu said, "It got a real beating. I was in a live-in (relationship) with him and it was considered unacceptable. His mother lived with us too, and she was very open, she accepted me. But then her friends started saying, 'Anu is this and Anu is that…', things were written about me in the press and magazines and people believed it. I didn't have any means to protect myself, there was no social media at the time, I didn't have a voice. It destroyed my personal life but if we talk about my working life, it boomed with the personality that I have."
Anu appeared in the Doordarshan serial Isi Bahane in 1988. She made her Bollywood debut with the blockbuster Aashiqui in 1990. It also starred Rahul Roy and Deepak Tijori. The film was a huge hit at the box office. Its sequel, titled Aashiqui 2, starred Aditya Roy Kapur and Shraddha Kapoor and released in 2013.
Anu has been part of several films such as Ghazab Tamasha (1992), Thiruda Thiruda, Khal-Naaikaa and King Uncle (1993), Janam Kundli (1995), and Return of Jewel Thief (1996).