International Tiger Day: Biggest problem with the tiger is that it doesn't vote, says Randeep Hooda
Updated on Jul 29, 2021 10:50 AM IST
On International Tiger Day, actor and wildlife conservationist, Randeep Hooda calls to dispel the misconception that the tiger belongs to the government.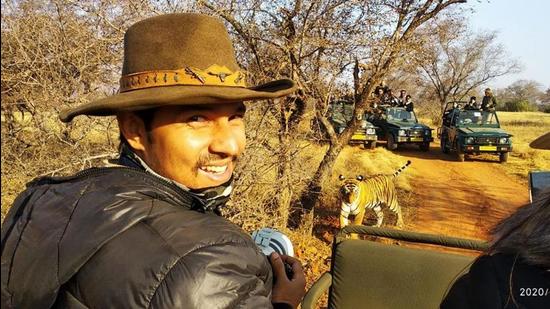 Actor Randeep Hooda, who is concerned about the growing tiger and human conflict, says, "To save them, we need to have non-exploitative economic benefits from the tiger where the locals benefit, not some fancy-schmancy resort."
On International Tiger Day, the 44-year-old calls to dispel the misconception that "the tiger belongs to the government", while emphasising the need to mobilise local people in direct everyday contact with the national animal of the country.
"The special day serves as a reminder and homage to this great creation of nature. It is a great day to rehash the conversation around tigers and their importance in our ecosystems in our country," shares Hooda, calling tiger "an umbrella over millions of species of flora and fauna".
According to the actor, who is vocal about wildlife preservation and tiger conservation, the fast pace of development is cutting into their habitats, leaving them vulnerable.
"Our population, infrastructure, trains and cars are growing faster, and then we are taking short-cuts. It's causing more and more accidents where they end up dead," he rues.
That's why it is important to start conversations among people close to the animal. Hooda says, "We have to stop talking to the converted and look at the bigger picture. We have to go wider by reaching out to people who are actually in direct contact with the tiger, and sensitise them. There's a lot of conflict that tigers belong to the government since the officials come to rescue them, But it is not the case. Tiger belongs to everybody".
Hooda goes on to list the biggest problem that is coming between the mission of protecting the species.
"It is that it doesn't vote (for the) local issues to be resolved. Somebody says, 'I've built a new road for you guys in the village'. But that local thing has a global effect. There are many instances when that road goes through a tiger reserve. If they voted, they would be looked after," says the Extraction (2020) actor, wondering what's stopping one to take a longer route rather than fragmenting a habitat.
Here, Hooda asserts that he is not against development, but it shouldn't come at the cost of the planet.
"We have a very robust environmental policy, which was made in the 1970s. But due to changing circumstances, those rules and laws are being diluted. It is a very worrisome thing, and we all are responsible for it... Forest land is the easiest land for the government to give away. There should be very strict laws for that," he says.
Talking about his role, he says, "I have tried my level best to not just be a social media activist who is more interested in what people like, or forming a group of people who keep congratulating each other about the great things they write about. I try to support people who are actually doing the ground level work. My aim is to do more ground level work in awareness, in raising money, and raising resources".
Hooda, who also uses his camera to frame the beauty of the big cats, wraps up by saying that "we have to constantly check people we have elected and make sure that they do not destroy the future of our country and the planet in the name of development".
"Economic growth is important. But we have to choose the lesser of the two evils," he says, reminding people about their responsibility to save the tiger rather than just leaving it all on the government.