Before Pathaan, John Abraham, Shah Rukh Khan teamed up in old Pepsi advertisement. Watch
Jan 27, 2023 06:46 AM IST
In 2007, Shah Rukh Khan and John Abraham were seen together in a commercial for Pepsi. While promoting the soft drink, the actors mocked each others' looks and even called one another 'uncle' as they fought for the attention of an uninterested teenager.
Before co-starring in Pathaan, Shah Rukh Khan and John Abraham were seen together for the first time in an advertisement. In 2007, the actors appeared in a Pepsi commercial, where they poked fun at each other as the vied for the attention of a teenager, who was least interested in them, and had his eyes on the soft drink, which was being presented in a new packaging. Also read: John Abraham pens a note about Pathaan amid reports that 'all is not okay' between him and Shah Rukh Khan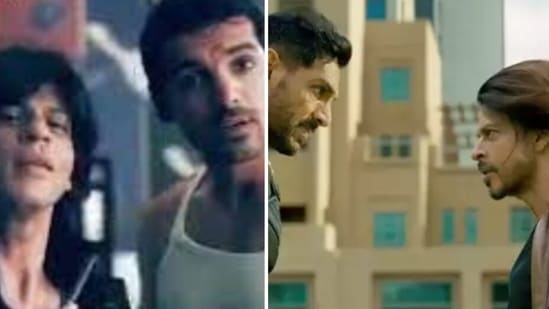 The almost one minute-long commercial shows both Shah Rukh Khan and John Abraham getting upstaged by a teenager with attitude. The advertisement opens in a cafe, where Shah Rukh Khan and John are chatting and mocking each other's hairstyle. A young boy walks in, and, spotting the actors, he walks purposefully towards them. Spotting the boy, who was dressed in an oversized casual outfit, Shah Rukh and John wondered who should give the autograph first to the boy. While Shah Rukh mocked John's body, the latter hinted the actor did not know how to sign an autograph in style.
As the boy reaches them, both of them stop snatching the pen from each others' hands to smile at him. Then the boy makes a gesture, saying, "Uncle, zara side dena (uncle, step aside)." The actors then move apart to reveal a Pepsi vending machine behind them. The boy walks towards the vending machine and gets his Pepsi can, leaving both Shah Rukh and John shocked and embarrassed. Shah Rukh then told John in Hindi, "He called you uncle. I did not like that at all."
Next, Shah Rukh and John spot the same boy again at the cafe. As John gets ready to 'hit him' for insulting him the last time they met, the boy asked Shah Rukh if he was holding his Pepsi can. When Shah Rukh said yes, the boy replied 'thank you, uncle' leaving John in splits. Shah Rukh then said pointing towards John, "He said thank you (to me), and uncle (to you)."
Shah Rukh and John came together for the first time on the big screen in their new movie Pathaan. The action film, written and directed by Siddharth Anand and backed by Aditya Chopra, also stars Deepika Padukone. Pathaan was released on 25 January 2023, ahead of Republic Day 2023 in Hindi, Tamil and Telugu. Before the film's release, there were reports of tiff between Shah Rukh and John over Pathaan. However, both actors have spoken positively about each other in recent social media posts, and also attended Pathaan's special screenings together in Mumbai.