Kajol turns emotional as Bekhudi co-star Kamal Sadanah surprises her
Published on Nov 24, 2022 03:37 PM IST
A video of Kajol meeting Kamal Sadanah on the sets of Salaan Venky surfaced online. Here's how it went and left Kajol shocked.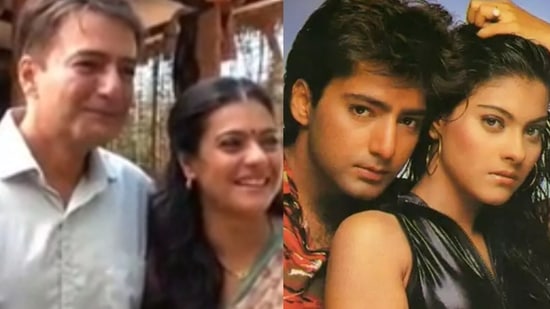 Actor Kajol is all set to reunite with actor Kamal Sadanah after thirty years of their film, Bekhudi. Kajol debuted in Bollywood with Bekhudi and Kamal was the actor to star opposite her. Kajol will be next seen in upcoming Salaam Venky, directed by Revathy who kept Kamal's casting a secret until the two actors met on the film sets. A video from their reunion has surfaced online. Also read: Ajay Devgn and Kajol twin in black at Drishyam 2 screening
Kajal had the sweetest surprise when she saw Kamal on the sets of Salaam Venky. In the video, she is filled with mixed emotions. Kajol appeared shocked and emotional to see her co-star after such a long time.
An overwhelmed Kajol went on to hug him instantly. The two of them couldn't stop smiling throughout the video. Kajol said, "Oh my God. What a shocker." Their director also joined them as three of them seemingly posed for a photo.
The video is winning hearts on the internet. Reacting to it, a user wrote on Reddit, "That's so sweet he came to surprise her. Good to see he's doing well too." "So cute," added another one.
Talking about bringing Kajol and Kamal together, earlier Ravathy shared during the trailer launch of Salaam Venky, "I didn't tell Kajol about the actor playing Kamal's part in the film. There's a very important scene between the two of them. It was a big surprise for her."
"Shooting with Kajol again made me think that I was on the sets of Bekhudi. She still speaks non-stop and I had to pick my chair up and move to the other side (laughs). But it has been great fun! I can't talk much about my role. I'm surprised they've put me in the trailer because no one was supposed to know that I'm in the film and what my character is all about," Kamal said about working with Kajol again.
Reacting to the surprise meet, Kajol added, "For the first five to ten minutes, I didn't say anything. I kept screaming. It was just really nice. We've met in between and we know of each other's whereabouts and everything that's happening in our lives. But it was lovely working with him again."
Salaam Venky will release on December 9. It also has Rajeev Khandelwal, Prakash Raj, Vishal Jethwa, Aahana Kumra and Rahul Bose.Aamir Khan will also be seen in a cameo appearance.