Vasan Bala says people protest only against a popular actor's film: 'Chote mote log don't make headlines'
Jan 22, 2023 07:12 AM IST
Filmmaker Vasan Bala of Monica O My Darling fame talks to Hindustan Times about the era of pulpy cinema, his new show Cinema Marte Dum Tak that will have 4 filmmakers recreate 90s' pulpy cinema on screen.
Vasan Bala, currently basking in the critical acclaim coming his way for Netflix film Monica O My Darling, is back with an unscripted docuseries titled Cinema Marte Dum Tak that takes the viewers to the era of B-grade films. Vasan is aware how the pulpy cinema has been the fodder of memes on social media but claims there is still a lot to learn from even that kind of filmmaking. He feels inspired from their passion to complete films in minimum time and budget, and also shares his story of how he was introduced to the world of B-films as a child. Also read: Vasan Bala's Mard Ko Dard Nahin Hota makes history at Toronto, see reactions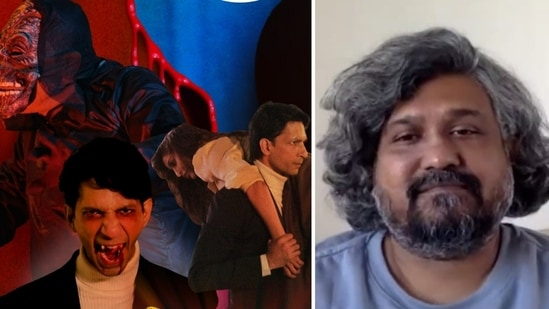 In the Amazon Original reality docu-series Cinema Marte Dum Tak, the filmmaker brings four ingenious filmmakers from the 90s: J Neelam, Vinod Talwar, Dilip Gulati and Kishan Shah to recreate the fascinating and flourishing world on screen once again. He spoke to Hindustan Times about the novel concept and all that is worth noting about the era. Excerpts:
What is the concept behind Cinema Marte Dum Tak?
There were so many different types of filmmakers and so many markets for films way back in the 80s and 90s. With Apps coming, its now an even playing ground. Talking about pulpy cinema, it's the world that exists in the periphery but no one really knows much about it. It made a lot of money and a huge impact at some point of time. We were very intrigued and went back to that cinema – the industry you know exists but don't know much about. So, we decided to deep dive and bring them in the foreground, understand who they are and why they do what they do. We were getting into the really pulpy, underground cinema that existed back in the 80s, 90s and almost died in early 2000s with the advent of the multiplexes.
Are we talking about B-grade films here?
Yes, it's a term we loosely use. Here we call them B-grade, in Hollywood they are called B movies. They have become really cool in Hollywood because they are the blockbuster films. We prefer to call them pulpy cinema, we don't look down on them but give essence of what they are chasing after, for instant gratification.
The current generation makes fun of such movies, their glimpses are mostly seen as memes on social media.
Our responsibility was not to look at them that way and keep away from judgements, show them in real light, which would probably be an interesting conversation with the eventual viewer and what they were laughing at. Now after knowing them, they may probably create a certain kind of empathy or understanding of who these people are. The show wasn't capitalising on the spoof value of the industry. The viewers can have their own opinion about them.
Your take away from that era of pulpy cinema.
The biggest take way was how efficient they were in finishing their movies. They could have one white wall and 50% of their film could be shot on that one wall. That was a great learning, to tell a story is not about the locales or the background but it is what a maker wants to do. They were so efficient in that sense. All these filmmakers are great editors. If actors are not around for the shoot, they would just make sure that through editing, you feel they all are in the same room and interacting at the same time. While one actor would have given just half a day to shoot, the other would have given 3 days after 3 months. And all of it is put together in one film. Sometimes, it makes complete sense and sometimes, it makes no sense. But the fact that they tried and had an ambition is so fascinating about this world, which we are trying to showcase through the series.
Is there a tip you picked up from the making of this docuseries which you wud like to incorporate in your own style of filmmaking?
Of course, I have made films like this only. My first film, Peddlers, I tried to make it under ₹60 lakhs. There was no money so we painted the same wall again and again. When you are desperate to tell a story and have no resources, these are the cinema hacks which one uses. It's heartening to know that cinema is such a great equalizer where you have to apply your mind and can tell a story. Even the biggest filmmakers must have used these techniques when they started out in industry. James Cameron, when he made The Terminator, he would have had to use these techniques.
How would you describe the movies you saw in your growing up years.
I discovered them (pulpy cinema) through VHS. If we went to rent out Ramsay Brothers' films and they were already rented out, then the VHS guy would push these films, saying, 'these are also horror, actors look similar'. That's how you kind of discover a Harinam Singh or Mohan Bhakri. These are the films given to you when Ramsay films were not available.
Back in 2008, Richa Chadha would hold screenings of these films in her house, like Khooni Dracula of Harinam Singh, and discuss and have her friends watch them. That tribe was always around. There are a nice set of people who invest in them, watch them, discuss them and are very serious about their passion of seeking them out. At certain centres, these films were making more money than a Subhash Ghai film. Gunda blew up and became the most blockbuster pulp.
These days objections are raised on almost every movie. Can these films be made today without the censor board ordering several cuts?
They were facing the same problem back then. Hath pair jod ke reel bachate they (they would beg to save their film reels). Sometimes they would go with a two-hour film and return with a half hour film. Now the connotations have become lot more different.
Can such films release in theatres now without protests?
Jisko halla karna hai wo to karenge hi. Log tabhi halla karte hain jab koi bada insan juda hota hai. Chhote mote logo mein headline banegi nahi (the ones who want to shout, will shout. People make noise only when a big name is associated with it. Targeting small names doesn't make headlines). It is not really the morals they are voicing out, it's the name they are going out for. The noise is not for the content but for their own names. They are there on the apps. Jisko heera dhundna hota hai wo dhundh lega (those who seek the diamond, find it).
You just directed Monica O My Darling which had so many interesting Easter eggs.
Easter eggs were there in Mard Ko Dard Nahi Hota as well, its just that people didn't watch it much. Easter eggs should always be in the background, not in the foreground. It is a surprise, not a part of the narrative as such. It wont affect the way you watch the film. If you notice them, there is an added layer of interaction. Easter eggs are for me, those who discover them there is a connection.
Your films become cult over a period of time. Can these films do better commercially?
I am so far away from commercially evaluating anything. Main bhi bangley mein rah raha hota (I would have been living in a bungalow), which I am not. I have no knowledge. What I know is my films and stories I want to tell. I don't know about the business side of it. Commercially, I have no clue. How things work and how they should be put together. I am more into the creative side and just protective about them.