Prince Harry to appear on 60 Minutes for 'explosive interview', says 'silence is betrayal'. Watch promo
Jan 02, 2023 07:20 PM IST
The Duke of Sussex, Prince Harry, will be interviewed by journalist Anderson Cooper on 60 Minutes on January 8. Harry will discuss his upcoming memoir Spare on the long-running American news program.
Prince Harry will sit down with journalist Anderson Cooper for a new interview on the news program 60 Minutes which will air on the US TV channel CBS on Sunday, January 8. It will the royal's first American television appearance to discuss his memoir Spare. The tell-all book, which is out on January 10, is said to be Harry's story in his own words. (Also read: Prince Harry's shocking reveal in Netflix documentary: 'My brother shouted at me, dad said untrue things')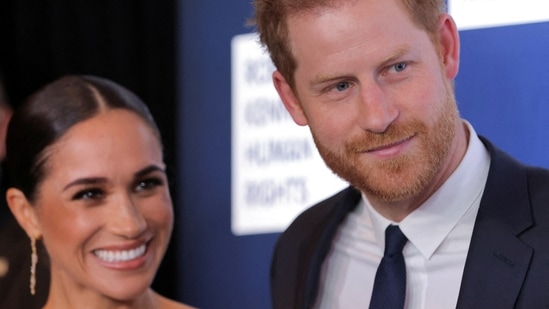 Published by Penguin Random House, the memoir is described as "raw, unflinching honesty". The promo for the upcoming interview shows Harry in conversation with Anderson as they discuss his new book and life.
The controversial royal has divided people in both the US and the UK. The claims made by Harry and his wife, Meghan Markle, The Duke and Duchess of Sussex, have been met with both derision and support since they left their royal duties in 2020. Responding to the promo of the interview, a Twitter user said, "Harry has no loyalty; he's despicable." While another added, "Remember, Harry and Meghan REALLY hate media attention…"
There were those who backed Harry as well. One Twitter user stated, "I think Harry burns the house down. He's going to do it solo in hopes they don't blame Megan, which is of course is futile. But in the end, he wants them to know it was him." Another said, "Happy for him to be able to give his own information on his own life. True self-care." Others shared that they were looking forward to his book, "I cannot wait to watch this and read his memoir. Go Harry. (raising hands emoji)."
Harry explained that he's tried to negotiate with the royal family privately but there have been leaks against them in the press. He said, "Every single time I've tried to do it privately there have been briefings and leakings and planting of stories against me and my wife. You know, the family motto is never complain, never explain, but it's just a motto."
He added, "They will feed or have a conversation with the correspondent. And that correspondent will literally be spoon-fed information and write the story. And at the bottom of it they will say that they've reached out to Buckingham Palace for comment. But the whole story is Buckingham Palace commenting. So when we're being told for the last six years, 'We can't put a statement out to protect you.' But you do it for other members of the family. It becomes-- there becomes a point when silence is betrayal."
The 60 Minutes interview is airing a month after the Netflix documentary Harry & Meghan. They shared their side of the acrimonious split with the royal family beginning with their dating days to the births of their two children, Archie and Lillibet. The six-episode documentary series, directed by Liz Garbus, became Netflix's biggest documentary debut, with 81.55 million viewing hours globally in its first week of release.
This isn't the first time that members of the royal family have appeared on the American show. His father, King Charles, appeared on the program in 2005 while his grandfather, the late Prince Philip, appeared in 1981.