Environment
Swipe up for the next story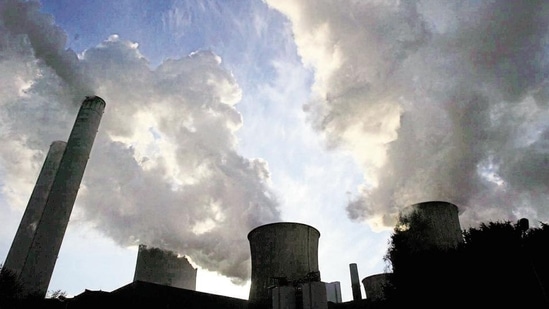 Rich nations could cover the climate-induced economic losses suffered by the world's most vulnerable countries if they forced the fossil fuel industry to pay for the damage caused by their emissions, according to Oxfam International. The jargon refers to the loss of lives, cultures or species that can never return and the damage to vital infrastructure that needs to be repaired after climate disasters.
India is approaching the limit of human survival as temperatures rise and heat waves become more intense and frequent. A November World Bank report warned India could become one of the first places where wet-bulb temperatures could surpass the survivability threshold of 35°C. Factors such as deforestation, urban heat islands, and population growth are compounding the effects of global warming. Mitigation strategies such as urban planning, energy-efficient building design, and tree planting can help reduce the risks of fatal heatwaves.
Scientists have identified 16 tipping points that, if passed, could lead to irreversible changes in the climate system, with five of them already triggered by 1°C of global warming. These include melting of the Greenland ice sheet, changes to Atlantic Ocean currents, and an Arctic permafrost thaw. Despite pledges to keep global warming to 1.5°C, fossil fuel expansion plans threaten to overshoot this limit. Urgent action is needed to avoid catastrophic climate change.
Earth Hour is an annual global event that takes place on the last Saturday of March, where millions of people from 190 countries switch off their lights for an hour to raise awareness about climate change and energy conservation. This symbolic act serves as a reminder of the environmental issues facing us, and aims to inspire individuals to take meaningful action for a sustainable future. Despite its short duration, this event has become a powerful catalyst for positive environmental change, with hundreds of celebrity influencers and events planned for this year's Earth Hour.
California water expert Don Cameron pioneered a model of intentionally flooding his farm to control flooding and replenish ground water, which is now being seen as a potential solution for California's drought-stricken state. His experiment has been embraced by policy makers and other farmers, with the state providing grants to support the project and the Governor signing an executive order to make it easier for farmers to divert floodwaters.
Union Minister Ashwini Kumar Choubey informed Rajya Sabha that 92 Eco-Sensitive Zones (ESZ) and 2 Ecologically Sensitive Areas (ESA) have been notified in 13 states of the Indian Himalayan region to protect biodiversity. ESZs act as a buffer around Protected Areas, while ESAs require special attention for conservation. State Governments are mandated to prepare a Zonal Master Plan and Tourism Master Plan for the ESZs.
IMD forecasts a fresh spell of thunderstorm, hailstorm and rainfall activity over northwest India from March 23-25 and central and eastern India from March 24-25. Heat in February and the onset of pre-monsoon activity are linked, experts said, while warning of isolated hailstorms and gusty winds.
The Intergovernmental Panel on Climate Change (IPCC) warned that overshooting 1.5°C warming will lead to irreversible impacts and risks for human and natural systems. To prevent this, rapid, deep and immediate greenhouse gas emissions reductions in all sectors need to be achieved by 2030. Nations must fast-track their net zero goals, and wealthier countries must mobilize resources to support emerging economies. Every fraction of a degree of warming puts us closer to breaching the 1.5°C survival threshold.