Brands have used money to tame fashion bloggers: Suzy Menkes
India's place on the global fashion map, nudity, and the reign of Instagram bloggers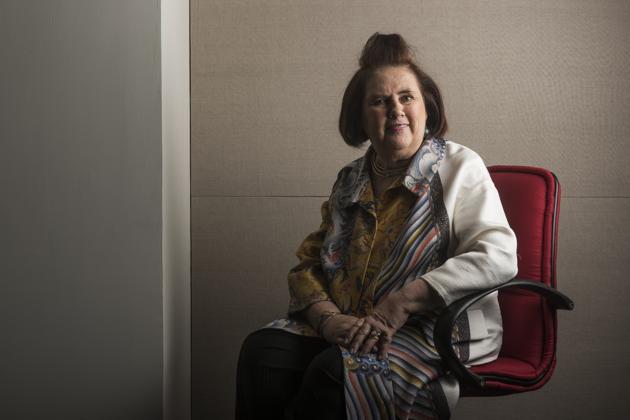 Updated on Jan 13, 2017 02:42 PM IST
Five decades of fashion writing makes Suzy Menkes an authority like none other. We chat about India's place on the map, nudity, and if the reign of Instagram bloggers will last
If you're fashion-savvy enough to scoff at anyone who pronounces Givenchy (jhee-von-shee) incorrectly, chances are you know the name Suzy Menkes. If not, look it up before you glibly proclaim the next piece of designer wear "chic".
Menkes doesn't own a label. She hasn't had a film made on her starring Meryl Streep. Yet, she's one of the most powerful voices in fashion. Enough to have earned her an OBE (Officer of the Order of the British Empire), and for her Instagram account (@suzymenkesvogue) to be flooded with photos with the biggest designers.
In her five-day Mumbai visit, Sabyasachi Mukherjee gave her a tour of his store, Manish Arora flew down for lunch, and the other Manish [Malhotra] threw her a party (with Bollywood attendance, obviously). A couple of days later, she's in Florence, with Tommy Hilfiger.
+
We meet her on her fifth evening here. Her phone and Apple watch are out of charge, and sit uncharacteristically un-bleeping. It tells you two things: At 73, Menkes is one of the most tech-savvy women around. And she's got more energy than Apple's gadgets.
You're an old-school fashion writer, and have 291k Instagram followers. Is the old order of haloed editors and magazines set to be toppled by bloggers posting Instagram photos?
I was excited by the arrival of the bloggers. So far, fashion writing was done by people, most of who had been working for at least 20 years. It was refreshing. The problem is that we may not have been paid much as journalists, but we were paid. With bloggers, where were they going to make their money from? What happened is that smart fashion companies, with money at their disposal, tried to tame their enthusiasm from doing real critiques. Great blogs emerged: Susie Bubble, for instance. While others were exposed by prancing around in Dolce & Gabbana saying, "Aren't Dolce & Gabbana wonderful? They gave me this bag."
READ MORE: Masaba's guide to packing for winter weddings
Fashion is good at pretending that things are always happy. But, surely, the global economic slowdown has hurt it.
I think every sector is hit. India is sort of an exception, because it doesn't make globally-known high-end luxury goods. But, at the retail end, maybe international buyers will be wary of taking risks on new designers – including Indian ones – now.
We're often told Indian fashion is on the cusp of global stardom. How true is it really?
What puts India apart is that a lot of traditional handwork and embroidery have continued to exist. Unlike, say, in China. A country which made the most wonderful fabrics – though used by a tiny elite – doesn't have it at all now. In India, you still get semi-organised handwork in large numbers. Global fashion is beginning to recognise that real luxury is the work of human hand. Everything's gone full circle in a hundred years. Artificial fabrics like nylon, and machine-made clothes were once expensive, and handwork cheap. Now, it's the other way around.
But I wonder what the government is doing to support that. Whether the next generation of craftsmen will have the incentive to follow their family crafts.
READ MORE: The world of pre-loved luxury goods
How is it that fashion, on the one hand embraces plus-size models, and on the other, still propagates the ideal body image?
There is something distasteful about undersized models, especially in countries where people are thin because they don't have enough to eat. A lot has been written about it. But France, of all places, has taken a stand, by dragging agencies that hire excessively thin models to court. In Brazil, though, I see curvier models. The same is true of the Bollywood stars I've seen on the ramp here.
Amid the current wave of feminism, how is that we still put nude or semi-clad women on magazine covers and ad campaigns?
It's complicated. The women who choose to be paid money to show more flesh than clothes are obviously making some sort of decision too. I do believe that there is a second feminist revolution. And a lot of women are refusing to make fools of themselves by wearing, say, shoes they can't walk in. And there are other signs too. Dior has a woman at the creative director [Maria Grazia Chiuri] for the first time. They are little blades of grass.
Menkes is the International Editor for 19 editions of Vogue online. She was in Mumbai to promote the Conde Nast International Luxury Conference, in Oman, in April 2017 (cniluxury.com).
The writer tweets as @saritray2001
Close Story