Parents, keep in mind: Less than 20% urban kids in India eat fruits once a day
Oct 12, 2017 04:09 PM IST
Urban children in India are barely eating fruits or vegetables, says a new study. It comes in the wake of reports about rising obesity levels in India.
Only 18% of urban children in grade six to 10 in India eat fruits every day, show the results of a survey, revealing poor eating habits of a vast majority of kids in the country. At 14%, the proportion of children eating protein once a day is even lower, showed the survey by Podar Education Group which runs over 100 schools spread across the country.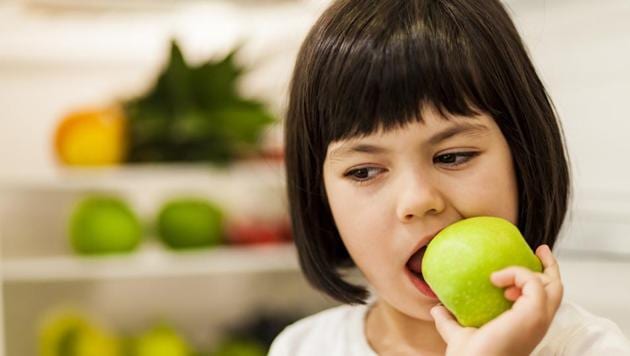 The survey involved responses from 1,350 parents of children studying in grade six to 10 in India's metro cities. The results showed that only 35% of children consume vegetables as part of every meal. "The World Health Organisation (WHO) does say that childhood obesity is an 'exploding nightmare' in the developing world," said Raghav Podar, Trustee, Podar Education Group, in a statement.
A new study led by Imperial College London and WHO and published in the journal Lancet showed that the number of obese children and adolescents (aged five to 19 years) worldwide has risen tenfold in the past four decades. "Healthy childhoods are critical to the country, and require strong cohesive work between the parents and schools," Podar said.
The survey evaluating the eating habits across food categories in young school children in India also found that 50% of them consume junk food, sweets or other unhealthy food almost on a daily basis. "This survey clearly indicates that teaching a child about good nutrition is not just about giving them a list of healthy foods that he or she can eat, but more about 'how much' and 'when' to eat," child nutritionist Sripriya Venkiteswaran said.
"For example, teach them about age-appropriate portion sizes and how to limit themselves when they go out to birthday parties or buffet spreads. Teach them to eat at regular intervals, not skip meals and keep a gap of at least three hours between dinner and bed-time," Venkiteswaran added.
The silver lining is that almost 76% of parents said that their kids play some outdoor sport. About 24% said their children do not play outdoors at all. "It is important for every child to have 60 minutes of moderately rigorous play every day to be fitter and healthier. Lack of play also leads to slow cognitive skills, lower social skills, threat of diseases such as asthma, diabetes and aggressive behaviour," said Parminder Gill, a sports educationist and co-founder of EduSports, a leading sports and physical education organisation.
Follow @htlifeandstyle for more