FIFA World Cup 2018: France's collective show rewarded, Croatia undone by harsh decisions
Hindustan Times |
Bhaichung Bhutia
Jul 17, 2018 09:18 AM IST
It was the dodgy penalty awarded to France more than the free-kick that sucked the air out of Croatia in the World Cup 2018 final, writes former India captain Bhaichung Bhutia.
It would be easy to get into the 'I-told-you-so' mode after France emerged comfortable winners on Sunday but it would also be missing the point somewhat.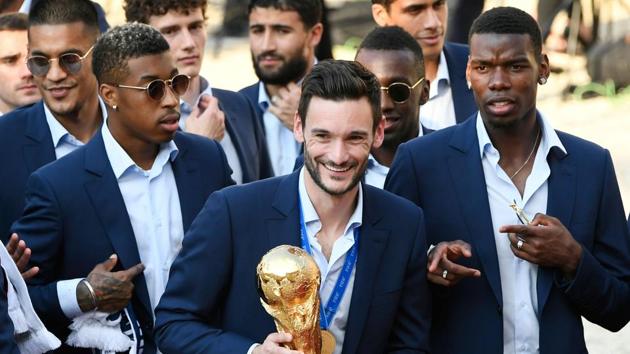 For, the wheels were taken off Croatia, somewhat harshly, when they were motoring along. The free-kick which Antoine Griezmann won in the 18th minute was against the run of play and seemed harsh.
Griezmann made the most of minimum contact from Marcelo Brozovic and from 30 yards out, floated one in that took the head of Mario Mandzukic and went in. Croatia were trailing after having done everything but score!
They recovered with a sublime Ivan Perisic goal showing what fighters they are. Croatia had begun by showing real desire to win and were asking France tough questions.
READ | Post-World Cup final press conference interrupted as France swim in joy
And then they were done in by a self-goal. But the killer blow came when France got a penalty. I am all for VAR and it can't be said that the referee didn't get a clear view of what happened but I can't help thinking it was very harsh.
If Perisic's hand was above his shoulder, I would have understood. But it didn't seem intentional or a 'clear and obvious error', which necessitates seeking the help of VAR, at all.
Also, if it takes this long to spot it, the 'error' may not have been deliberate. If Argentine referee Nestor Pitana had not called it, I don't think he would have been hauled over coals.
Down 2-1, Croatia had no choice but press forward. It opened up the kind of space Paul Pogba exploited to essay a sublime cross-field ball for Kylian Mbappe, just the player you would want to be at the end of such a delivery.
READ | Australia's Tim Cahill announces international football retirement
But here too Croatia were unlucky. Pogba's first shot was blocked and when that happens, the defenders often don't know where the ball has fallen.
It fell kindly for Pogba who also got a second more to react. So, Croatia took in three goals without really being caught out. You can't but not feel for them.
Does that mean France were undeserving winners? No. This was a superb collective effort from a team of gifted individuals under a coach who knows what it takes to win tournaments.
They were tactical, they were composed and they really wanted it this time, having learnt their lessons from what happened in the final of the European championships two years ago.
READ | Didier Deschamps picks win over Argentina as trigger for World Cup triumph
What's more is that France's time seems to be now. A lot depends on whom you run into in tournament football; it would have been interesting had they played Brazil in the knockout rounds in Russia.
But France have attacking players such as Pogba, Griezmann and Olivier Giroud who give their all in defending. And in Mbappe, they have a Bolt with a ball who has been this World Cup's impact player.
Strange things happen in sport, the best don't always win, but the future looks good for France.