Why Atletico de Kolkata are looking for a new coach?
Published on Mar 05, 2016 02:35 PM IST
Asked about his future after ATK became the first team to qualify for the ISL2 semi-finals, Habas had said: "I don't have any complains with supporters or fans.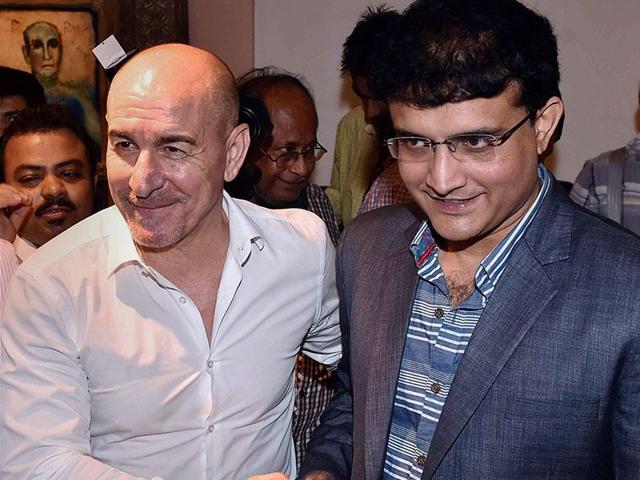 Atletico de Kolkata, winners of the first edition of the Indian Super League (ISL) and semi-finalists in the second, are likely to look beyond Antonio Lopez Habas as coach for this year. The Spaniard, always animated on the touchline and very popular in Kolkata, is said to have priced himself out of the team's budget for ISL3.
Asked about his future after ATK became the first team to qualify for the ISL2 semi-finals, Habas had said: "I don't have any complains with supporters or fans. But I am a professional coach, I may have to leave to support my family and I need certain conditions to stay. About season 3: we need to talk. As they say in Spain, 'the movement is in the running.' It means a promise stays that so long as it is not realised. So, I am waiting."
"We really wanted Habas to continue and were close to renewing the deal but then, what he was asking wasn't something we could afford," said an official with Atletico de Kolkata (ATK). The official requested anonymity because he is not authorised to talk to the media.
HT has independently learnt that Habas' two-year deal with ATK, which ended on December 31, 2015, was worth approximately $350,000 (R 2.35 crore) annually. The ATK official said the franchise had offered a raise but Habas, 58, is said to have asked for his salary to be matched with FC Goa coach Zico. "Their brand values are markedly different," said the ATK official. Habas did propose a lower salary but even that was way too high for us, said the ATK official.
Hugely successful with ATK --- co-owner Sourav Ganguly once referred to him as the team's heartbeat --- Habas's demand though is rumoured to have been accepted by a franchise from the western part of India.
Even if Habas and fitness coach Miguel Martinez --- a key component in the ATK coaching staff --- join another franchise, the head coach is likely to be suspended for four of the 14 league games in season 3. Charged with aggressive behaviour which led to him being expelled from the second-leg of the semi-final against Chennaiyin FC last term, Habas was banned four games and fined R 5 lakh by the disciplinary committee of the All India Football Federation (AIFF).
ATK appealed against the verdict but didn't follow up, according to an official with the league. That's possibly because communication between ATK and Habas broke down last January. On contract with Atletico Madrid till June, Habas couldn't be reached for a reaction.
But last month, officials from Atletico Madrid came to Kolkata and gave Atletico de Kolkata a shortlist of five coaches from where they can choose Habas' replacement. Atletico Madrid are 25% owners of this ISL team. ATK's sports director Alberto Marrero is an Atletico Madrid appointee as was Habas.
"Like Habas, the list has coaches who have worked in Europe and elsewhere," said the ATK official. The official said the new coach could cost less than what ATK paid Habas in season 2.
And though Habas and Martinez are unlikely to return, South African goalkeepers' coach Predipkumar 'Deshi' Bhaktawer, also a Habas recruit, may be back for a third stint with ATK. The franchisee is also set to retain the services of Canadian striker Iain Hume, wide midfielder Sameehg Doutie and central midfielder Ofentse Nato.
Talks are on with skipper Borja Fernandez and striker Dejan Lekic but it is possible that central defender Josemi and goalkeeper Juan Calatyud won't be part of the roster in 2016. Ditto playmaker Jaime Gavilan who, like Habas, may have priced himself out of the Kolkata side's budget.
Close Story
Personalise your news feed. Follow trending topics