Alarmed over poor air quality, Gurgaon schools install purifiers
Updated on Jun 11, 2017 10:41 PM IST
The air quality in the city has, of late, been found to be much above the permissible limit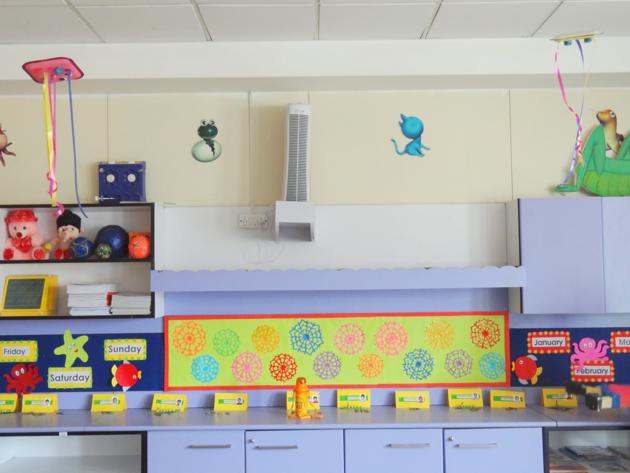 City residents are alarmed over the air quality of the city, as it has continued to be marked poor over the last five months. With the city's PM 2.5 reading found to be over and above the permissible limit of 60 µg/m³, several schools in the city have resorted to installing air purifiers in classrooms with a view to ensuring clean air for the students to breathe.
In a similar move in Beijing, some schools had installed air purifiers to escape the harmful effects of the city's toxic air and smog.
The Haryana government had earlier claimed to be toying with the idea of installing a giant air purifier to curb pollution in the city.
The latest to join the string of schools installing air purifiers is Suncity School at Golf Course Road. It installed 100 air purifiers in all classrooms earlier this month.
Earlier this month, the Delhi government had also directed schools there to install air purifiers to save students from health hazards.
In Gurgaon, schools are shut during winters when air pollution levels reach alarming levels. In May 2017, Gurgaon saw a sudden downturn in air pollution level for two consecutive days. The pollution figures recorded over those two days even surpassed Delhi's most polluted areas.
PM2.5, suspended particulate matter which is 2.5 micrometres or less in diameter, is considered the most deadly of all air pollutants as it can settle in the lungs and cause respiratory problems.
"We have always been cautious about the health of our students. Air pollution, as we all know, could pose serious health risks. Since pollution levels in the city have been touching alarming levels, the move (to install air purifiers) will ensure better physical and mental health of students. It will also help reduce respiratory diseases among children," Rupa Chakravarty, principal, Suncity School, said.
Air pollution causes could lead to diseases such as cancer and asthma. Several health surveys found that as compared to outdoor pollution, indoor pollution is more toxic due to concentration of pollutants in a closed environment.
Read I Dust pollution turning out to be silent killer, say Gurgaon residents
Sudha Goyal, principal, Scottish High International School, Sector 57, said, "We are trying to provide a pollution-free environment in school. Hence, we have installed air purifiers in classrooms to remove the harmful pollutants in the air."
However, environmentalists and parents opined that the air purifiers at schools are not enough to mitigate air pollution. "The quality of air in the city has to be improved for the residents to lead better lives. Air purifiers can only provide momentary relief," Jitender Bhadana, an environment activist, said.
Jitesh Sahgal, father of a student at Shiv Nadar School, said, "I am not sure how beneficial air purifiers in classrooms are going to be. Children only spend a few hours inside their classrooms."
Personalise your news feed. Follow trending topics