Among 28 cities surveyed, Gurgaon has the worst air quality: CPCB report
Updated on Feb 06, 2017 12:34 AM IST
As per the survey, only Gurgaon was marked 'severe.' Air quality was marked 'very poor' in Agra, Delhi, Faridabad, Kanpur, Lucknow, Muzaffarpur, Patna and Thane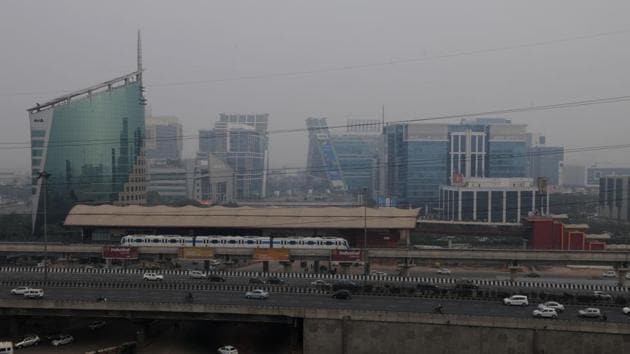 The Central Pollution Control Board (CPCB) on Saturday listed Gurgaon as the most polluted locations among the 28 cities and towns it surveyed for air quality index.
The air quality index is an indicator of the air pollution from the levels of three pollutants that includes NO2, PM 10 and PM 2.5. The index indicates air quality as 'good' for values of 0-100, moderate for 101-200 and poor for 201-300.
The index for individual pollutants at a monitoring location are calculated as per its 24-hour average concentration value (8-hour cycle in case of CO and Ozone) and health breakpoint concentration range. All pollutants cannot be monitored at all locations. Overall AQI is calculated only if data of a minimum of three pollutants is available.
As per the survey, only Gurgaon was marked 'severe.' Air quality was marked 'very poor' in Agra, Delhi, Faridabad, Kanpur, Lucknow, Muzaffarpur, Patna and Thane.
The finer particulate matter (PM 2.5) level was recorded at 434 micrograms per cubic metre (µg/m³) against the permissible limit of 60 µg/m³.
PM2.5 is suspended particulate matter that is 2.5 micrometres or less in diameter. It is a major component of air pollution. The particles can settle in the lungs and worsen asthma and other respiratory problems.
Last month, the Centre had directed states with poor air quality to take adequate action against agents contributing to air pollution.
However, experts said that the quality of air will not improve unless the agents contributing to pollution are curbed.
Dr Sewa Ram, associate professor of transport planning at School of Planning and Architecture, New Delhi, said, "Cities should think about alternative fuels and we should conduct studies to lead a life without vehicles. Governments should also concentrate on strengthening the public transport system. Awareness camps regarding air pollution levels and the impact should be conducted."
Meanwhile, the Haryana State Pollution Control Board (HSPCB) said that the department is taking necessary measures to curb pollution in the city as directed by the Supreme Court, but the air quality remains 'severe'.
"We are keeping a tab on all the agents, however, it can only reduce if the number of vehicles and the construction activities in the city decreases," said Bhupender Singh, regional officer, HSPCB.
Close Story
Personalise your news feed. Follow trending topics