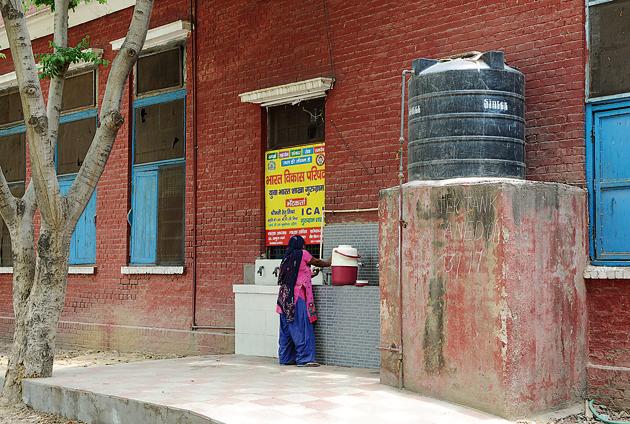 Gurgaon: 40 of 75 drinking water samples city fail quality test
Alarmed by the rise in the number of diarrhoea cases in May, the health department decided to conduct a survey of drinking water in Gurgaon
UPDATED ON JUN 11, 2017 10:28 PM IST
Forty of 75 drinking water samples collected by the health department last week failed quality test. The samples were collected from 13 sites, including government schools near the civil hospital. While 40 failed to clear the quality test, the rest of the samples were marked suspect, say the test results released last week.
The test results have added to the residents' worries at a time the number of patients suffering from water-borne diseases has increased by 30% in the city. Till May, this year, 13,420 patients were admitted to government hospitals because of diseases related to poor water quality.
However, health officials did not collect drinking water samples from the city's private schools.
In May alone, the civil hospital reported as many as 2,345 diarrhoea cases. This prompted the health department to conduct a survey of potable water in the city.
It is expected that the number of diarrhoea cases will go up further as the monsoon arrives. In June, so far, 200 diarrhoea cases on an average have been reported daily at government hospitals in the city.
With the test results out, the health department will soon ask Haryana urban development authority (Huda) and the Municipal corporation of Gurugram (MCG) to take immediate steps to improve the quality of drinking water in the city.
As per a report released by the Centre for Science and Environment (CSE), Gurgaon's groundwater level has been depleting by 3 metres everyday. Citing the report, doctors at government hospitals said that the declining groundwater level explains why residents in parts of the city have been complaining of being supplied dirty or contaminated water.
Read I Gurgaon: Water shortage to continue for another week, says Huda
"With the rise in temperature at this time of year, there's risk of a spiral in cases of flu and enteric diseases. Most of the (drinking water) samples collected by us failed the quality test. We will send a comprehensive report to Huda and the MCG on the samples collected and how they fared in the quality test. It is evident that the water supplied in most sites from where we collected the samples is unfit to drink," Ram Prakash Rai, epidemic in-charge, civil hospital, Gurgaon,said.
He said the sites that the health officials visited to collect drinking water samples included areas such as Khandsa, Civil Lines, Dundahera, Sikandarpur, Sukhrali and Farrukhnagar.
Samples were collected from residential colonies, government schools, boosting stations and outside metro stations.
Close