Gurgaon adopts soil-less farming to grow chemical-free vegetables
Published on Feb 25, 2017 10:48 PM IST
Instead of soil, coconut fibre is used and liquid nutrients are provided in a controlled environment.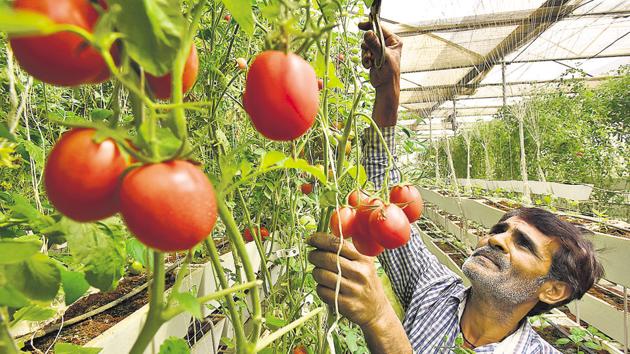 With growing awareness on soil-free diseases from vegetables and fruits in the city, residents are asking for more soil-less vegetables that are free from harmful chemical residue.
And, with a view to providing the city with safe and healthier vegetables, the Haryana horticulture department has commissioned a project at Panchgaon, Manesar, located 16km from the city. The initiative is aimed at growing soil-less vegetables and getting them supplied to the residential societies across the city.
The focus is on growing vegetables minus the harmful effects of pesticides. The project was launched in January 2016.
"This is the future of farming and vegetable cultivation. Instead of soil, coconut fibre is used to fill the pots and liquid nutrients are provided in a controlled environment," Din Mohammad Khan, district horticulture officer, said.
Vinay Jain, an active participant in this futuristic agricultural project, said, "To grow soil-less vegetables, we have to provide the plants with adequate sunlight, ensure proper environs and temperature for them to grow and add the nutrients required."
Those engaged in this effort are trying to grow vegetables and fruits such as cucumber, tomato, capsicum, strawberry, lettuce and other leafy varieties
The process involves coconut fibre, filtered water, liquid nutrition, pebbles and saplings . Once soil-less farming picks up and finds takers among residents, people would also be encouraged to use to hydroponic system to enable terrace gardening or farming.
Non-fruit bearing vegetables takes less than 15 days to grow, while the ones that bear fruit take about a month to grow. While it costs ₹60 lakh to grow soil-less vegetables over a one-acre area, the cost goes down if they are grown in a lesser space.
The hydroponic process of growing soil-less vegetables ensures that they are available all around the year. Those involved in the project said the plants grow 50% faster than they would on soil and quantitatively too, the produce is a lot more. Vertical structures are being used for cultivation.
At present, tomatoes, basil and parsley are being grown on a one-acre plot.
"A huge advantage of soil-less farming is that it doesn't allow nematodes (roundworm or threadworm) to affect food crops or vegetables. The nematodes that inhabit the soil not only damage the stems, but also impairs the foliage and flowers. The vegetables damaged by these worms could be harmful for health," Khan said.
"In this process, all vegetables are grown in a uniform space and the coconut fibre does not retain excessive water. We do not require fertilisers and pesticides as the vegetables are grown in a controlled environment. We use a polythene sheet to shield the vegetables from ultraviolet rays. The plants grow in a safe and healthy environment and produce vegetables and fruits free of chemicals," Dhruv Kumar, a farmer engaged in this
project, said.
This mode of farming could soon be adopted in condominiums and high-rises as it would enable residents to grow vegetables free from the harmful effects of chemicals. "At present, we are analysing the quality of the produce and the feasibility of this mode of farming. In a city like Gurgaon, which gets less rainfall, the hydroponic system of growing vegetables could find a lot of takers," Khan said.
The demand for safer and healthier food has prompted the use of new technologies and scientific research to grow fruits and vegetables without chemicals.