Gurgaon pollution takes a toll on the lungs of senior govt officials
Updated on Nov 20, 2015 12:00 PM IST
High levels of air pollution in the National Capital Region have seriously affected the lungs of senior government officials in Gurgaon, says a survey.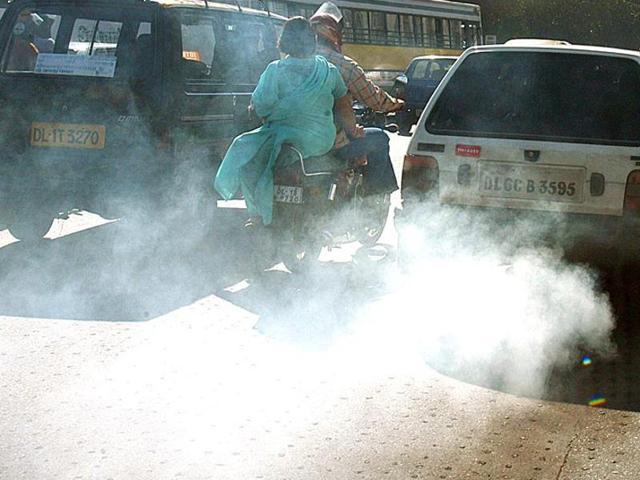 High levels of air pollution in the National Capital Region have seriously affected the lungs of senior government officials in Gurgaon, says a survey.
The results of the lung function tests conducted by a private hospital on 100 officials showed 68% officials suffered from shortness of breath to varying degrees, 57% had below normal lung capacity and 48% had lung function suggestive of obstructive airway diseases such as asthma or chronic obstructive pulmonary disease (COPD), which results in shortness of breath and breathing trouble.
The senior officials whose lungs were tested include the deputy commissioner, additional deputy commissioner, all sub-divisional magistrates and officials from the Haryana Urban Development Authority, public health, electricity, revenue and several other departments. The mean age of the officials was 31 years.
The tests were done last month and the results were released on World COPD Day on Wednesday.
Most officials were not even aware of the problems.
"The survey results are certainly shocking. We hope that the survey shall serve as an eye-opener for the people as well as healthcare stakeholders who will help point out the extent of the problem and importance of raising awareness on the same," said Dr Himanshu Garg, head of department, respiratory critical care, Artemis Hospital, who was part of the group that conducted the survey.
A total of 21% respondents reported cough at least few days every month and 8% said they couldn't exercise properly because of breathing trouble.
Air pollution, both traffic-related and indoor air pollution, caused by second-hand smoking and burning wood, coal for cooking, mosquito coils and incense sticks can cause COPD.
Apart from air pollution, respiratory problems were compounded by the high smoking rate in Haryana. The lack of enforcement of the ban on smoking in public places aggravated the problem.
According to Gurgaon deputy commissioner TL Satyaprakash, "When cities grow as part of old cities such as Delhi, the problems remain the same throughout. However, we realise that there is a need to increase attention on healthcare. The Indian government has been promoting yoga and that seems to be one of the best solutions. As a city and nation, we should work towards such solutions."
"In Haryana, hookah smoking is part of culture and starts at an early age in rural areas. Besides, the use of biomass fuel for cooking raises the risk of respiratory issues in women," said Dr Garg.
According to World Health Organisation estimates, 65 million people have moderate to severe COPD. Rough estimates suggest that there are 30 million COPD patients in India.
"The survey raises serious questions on outdoor as well as indoor air quality of Gurgaon. Despite this, very little attention has been paid to the respiratory diseases by the authorities and the medical community," said Dr Pratibha Dogra, consultant pulmonologist at Artemis Hospital.
Personalise your news feed. Follow trending topics