Gurgaon: Seasonal diseases make an appearance ahead of time
Doctors in various hospitals said they are seeing a 30% rise in cases of pneumonia, viral fever, diarrhoea and enteritis over the last one week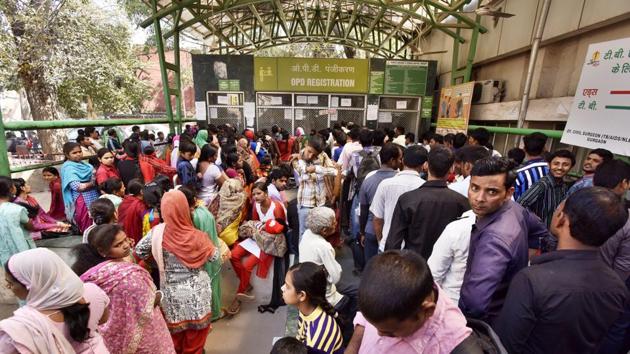 Updated on Feb 27, 2017 09:09 PM IST
With the temperature going north, waterborne and seasonal diseases have become a major concern for residents.
Doctors in various hospitals said they are seeing a 30% rise in cases of pneumonia, viral fever, diarrhoea and enteritis over the last one week.
The sudden change in temperature has activated viruses and bacteria responsible for spreading seasonal diseases, doctors said.
These seasonal diseases usually start to appear towards the end of March. But this year, they have made their presence felt in February itself. As a result, chances of a rise in the number of such cases are high, doctors said.
In the last 15 days, as many as 56 cases of viral fever were reported at the out patient department (OPD) of Civil Hospital. These include cases of typhoid and stomach infection as well.
"The rise in temperature has provided a favourable environment for the growth of bacteria responsible for seasonal diseases," Pushpa Bishnoi, chief medical officer, Civil Hospital, Gurgaon, said.
Apart from temperature, poor air quality in the region seems to have also played a role in spreading seasonal diseases early.
Dr Raman Abhi, additional director, internal medicine, Fortis hospital, said, "The seasonal disorders have increased because of pollution and smog. Most cases are of stomach infections that also cause viral fever."
"We are seeing a 30% rise in the cases of upper and lower respiratory tract infections, gastroenteritis, and acute asthma. There has been over a 20% increase in incidence of typhoid since last week," said Dr Rajesh Kumar, a senior consultant with a private hospital.
Doctors have advised residents to avoid sudden changes in temperature such as removing clothes immediately after a sporting activity. They have also cautioned against drinking cold water, consuming street food and stressed on the need to maintain hand hygiene and a social distance from anyone suffering from a flu. It is also advisable to consume only freshly cut fruits and well cooked warm food.
Doctors also said if one is suffering from a runny nose, it is better to restrict person to person contact to keep the infection from spreading.
To address the issue of the early onset of seasonal diseases in the city, the doctors at the Civil Hospital have asked residents to take precautionary measures and the hospital staff was also asked to take steps to avoid the spread of diseases.
Close Story