Kherki toll shift: Manesar panchayat refutes govt claim on land transfer
Updated on Jan 01, 2018 11:23 PM IST
Haryana CM Khattar said his govt had transferred 65 acres to National Highways Authority of India (NHAI) to enable relocation of the Kherki Toll plaza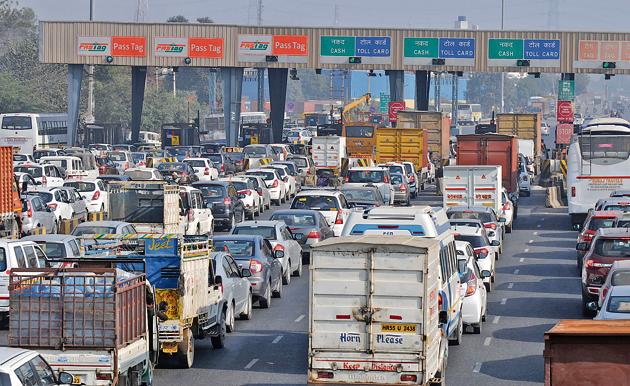 Members of Manesar panchayat said on Monday that the 59-acre plot, which the state government said has been transferred to the National Highways Authority of India (NHAI) for shifting the Kherki Daula toll plaza is still in its possession.
Members of the panchayat held a meeting, chaired by sarpanch Puja Kumari last Thursday to hold discussions on the future course in the light of chief minister's Manohar Lal Khattar's announcement on December 26 that 65 acres have already been handed over the NHAI for relocation of the toll plaza, which has been locked in a dispute over its transfer, over the last few months.
"Of the 65 acres required for setting up the new toll plaza at Sehrawan, 59 acres belong to the Manesar panchayat. In November, the village panchayat, in a meeting, decided not release their land on lease to the NHAI. The chief minister's announcement, indeed, came as a surprise," Kumari said.
Manesar residents had, for long, been pleading for shifting the Kherki toll 5 km away from Sehrawan towards Kundil-Manesar-Palwal.
Dharambir, district councillor of the area, said, "As per the resolution arrived at in our meeting, we proposed that the state government shifts the Kherki toll 5 km away from Sehrawan towards KMP. It would help us save 50 acres of our land. However, the Haryana government has not yet cleared its stand in this regard."
After CM's announcement on December 26, the NHAI was asked to take possession of the land. The NHAI has to complete the toll shifting process within three months of getting possession of the land.
Read I MCEPL biggest 'hurdle' in Kherki Daula toll shift
The CM's announcement came as a major hope for people who have been keenly awaiting the removal of the toll from Kherki Daula.
Sudhir Chaudhary, a local activist, said, "CM's announcement was false in letter and spirit. The 59 acres in question has not been transferred to the NHAI."
Ashok Sharma, project director (PD), NHAI, Gurgaon, could not be reached for his comments in the matter.
Vinay Pratap Singh, deputy commissioner (DC), Gurgaon said, "We will look into the matter."
Kherki Daula toll shifting is an issue that has been pending for long and both the state and the central governments are under pressure to yield to the demand of residents to have the toll point relocated.
In August 2017, Nitin Gadkari, Union minister for road transport and highways, had announced the shifting of the toll from Kherki Daula to Sehrawan. Following his announcement, a committee was set up under AK Sharma to expedite the shifting process.
According to a study conducted by the Millennium City Expressway Private Limited (MCEPL) that runs the toll, Sehrawan is a low-potential zone for revenue generation as compared to Kherki Daula, making the shift non-viable for the consortium.