Now, a bus service for women to zip to work
A women-exclusive app-based bus service was launched for Gurgaon and NCR on Tuesday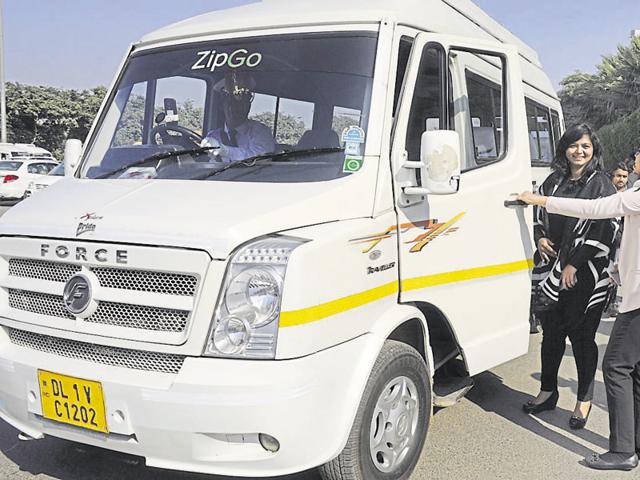 Updated on Dec 16, 2015 12:55 AM IST
A women-exclusive app-based bus service was launched for Gurgaon and NCR on Tuesday.
With introductory prices starting from Rs. 29 per ride, ZipGo aims at providing mass transportation service for women which is reliable, comfortable and air-conditioned.
The app currently operates 20 mini-buses, with a capacity of 12 passengers. It will cover routes from Gurgaon to Faridabad, Manesar, Dwarka and parts of South Delhi. ZipGo soon plans to extend the service to Noida as well and increase the fleet to over 100 vehicles.
Jitender Sharma, Co-Founder and CEO of ZipGo, said, "Commuters avoid buses due to lack of clean, comfortable vehicles, inconvenient routes or stops, and overcrowding. The long journey time is another reason for people not using buses. But ZipGo solves all these problems. We use crowd-sourced routes, timings and stops and take the shortest non-stop route. ZipGo also provides clean, comfortable AC buses with guaranteed seats — all this at one-fourth the price of a taxi."
Only women can use the service Through the ZipGo app available on both android and iOs phones. After installing the app and registering using a mobile number, users can search for a boarding point and destination. Commuters can select a particular bus and use the pre-paid in-app digital wallet to pay for the reservation. Once the reservation is confirmed, users get the details of their bus and can track it on the app and reach the boarding point in time to board the bus.
Company officials said they have given importance to the safety and security of the women passengers. A thorough verification of drivers has been done by the local police and also by a private agency. The buses also have a GPS system which helps the company to track the location of the bus. Furthermore, CCTV cameras with real-time tracking will also be installed on buses and this will help the organisation keep a check on vehicles and know what is happening inside the bus at all times.
"A great amount of importance has been given to the safety and security of women passengers. We have done a complete verification of drivers and have also registered them with the local police. Soon, CCTV cameras with real-time tracking will be installed on buses so that a tight check can be kept on vehicles," Sharma said.
The police also said such services will help the city in controlling pollution and congestion.
"Women safety and traffic are, perhaps, the biggest everyday concerns of citizens and the police. ZipGo addresses both these challenges with an innovative, technology-based approach. Hence, we are delighted to launch ZipGo services in Gurgaon. I believe that this service will not only ease commuting for women but also help in making a difference to the traffic situation in the city," police commissioner Navdeep Singh Virk said.
Close Story
Personalise your news feed. Follow trending topics