Rapid Metro Phase 2 to be ready by year-end, will miss September deadline
Jun 03, 2016 11:31 AM IST
The Rapid Metro has already extended the deadline of phase 2 expansion twice -- from mid 2016 to September 2016 and now, to the last quarter of 2016
The city will have to wait longer for the 7-kilometre-long second phase of Rapid Metro as the trains will not hit the new Golf Course Road line until the end of the year. The construction of phase 2 started in April 2013 for `2,143 crore.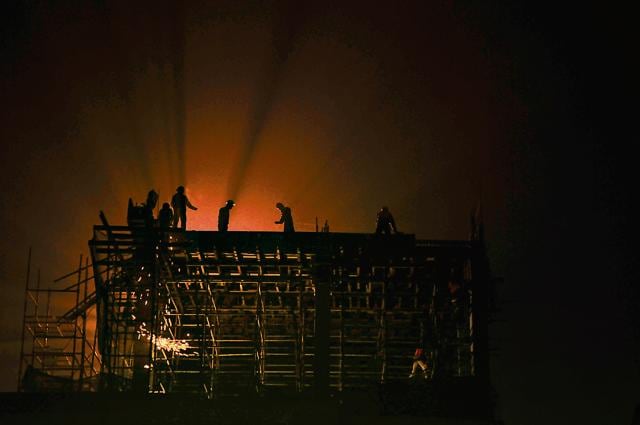 The Rapid Metro has already extended the deadline of phase 2 expansion twice -- from mid 2016 to September 2016 and now, to the last quarter of 2016. Rapid Metro phase 2 will have five stations -- DLF Phase 1, Sushant Lok, sector 53-54, AIT Chowk and sector 55-56.
Rapid Metro authorities said they faced a number of hurdles during phase 2 expansion, causing a lot of inconvenience and reducing the efficiency of the team.
"We are pretty much on track for starting commercial operations by the last quarter of 2016. We faced challenges due to various reasons. For example, parallel projects such as road widening happening concurrently in the same alignment, shifting of BPCL gas line and shifting of underground utilities for the construction of underpass at Genpact intersection," a Rapid Metro spokesperson said.
The Rapid Metro is the country's first fully privately financed metro service, which has an interchange with the yellow line of the Delhi Metro at Sikanderpur. Phase 1 has six stations at Sikanderpur, DLF Phase 2, Belvedere Towers, Cyber City, Phase 3 and Moulsari Avenue.
The private metro was expected to have a daily ridership of one lakh but so far it has been only 35,000. Though the overall ridership has been far less than expected, the rapid metro officials said extending the service will boost the ridership.
However, sources said that even the latest deadline, set for the last quarter of the year, may be extended too.
An official, requesting anonymity, said that though 75% of the project is complete, minute detailing work is pending in the remaining 25% and it will take a couple of months. "After the infrastructure has been set, a number of safety and quality tests will be conducted, both in-house and by the government. We hope that the functions start soon but it seems a little difficult," the official said.
"Our alignment is passing through densely populated commercial and residential areas of Gurgaon and the extension to Golf Corse Road will offer a comfortable and reliable mode of transport. We look forward to seeing a positive response once we start commercial operations," the spokesperson said.