Sector 71 residents upset with garbage dumping and burning
Oct 28, 2017 10:25 PM IST
Sector 71 residents said fumes emitted by charred remains of waste pose a health risk for them
Residents of Sector 71 and Sohna Road have alleged that despite repeated complaints to civic authorities about widespread dumping and burning of unsegregated waste in the area, no action has been taken.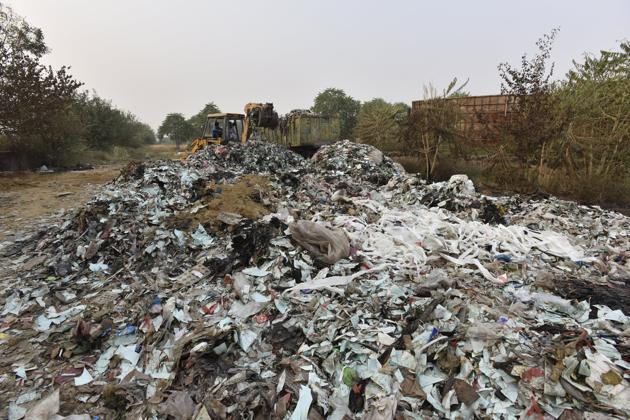 Residents said that the fumes emitted by the charred remains of the waste dumped by several companies situated behind housing complexes in Sector 48, are posing a risk to the health of residents in and around the area.
Stay tuned with breaking news on HT Channel on Facebook.
Join Now
There are large chunks of unused land in Sector 71 which is commonly used for dumping and burning waste. Although Sector 71 is largely home to urban settlers, residents said civic authorities have been negligent towards it.
Residents also claimed that five days ago, medical waste was set on fire near the society, posing a risk to hundreds of families, including children, settled within 100 metres of the area.
"Hundreds of tonnes of plastic and hospital waste is being burnt in the open just behind the society. This poses a serious health concern for residents. How can the authorities be blind to such blatant violation of environmental norms?" Vikas Jaiswal, a resident of CHD Avenue 71, said.
Residents said despite complaining to civic agencies, there is still no check on pollution in the area.
There are around 600 apartments in the complex housing nearly 2,000 people. All claimed to be suffering from breathing problems due to the burning of plastic and medical waste in Sector 48, adjacent to the complex.
"Hospitals are meant to save lives, but they are operating as business houses and paying scant regard to the lives of residents. Government authorities seem to have forgotten that the employees get their salaries from taxpayers' money and they are paid to serve residents and be responsible for their well being. While we pay our taxes diligently, the government has done little to provide basic infrastructure. It's a struggle to even breathe clean air these days. If the authorities start doing their jobs, pollution levels in the city will be reduced to a significant extent," Ravinder Singh, another resident, said.
Read I Gurgaon: Pollution watchdog raises air quality alert
On Thursday, residents reported open burning of waste to Sadar police station. A police team rushed to the spot and caught people allegedly involved in waste burning. "We have received complaints from residents and will write to the deputy commissioner and pollution control board on the issue (waste burning). We nabbed some violators and a fine of ₹5,000 was imposed on each of them," Anil Kumar, ACP(Sadar), said.
Officials of the Municipal Corporation of Gurugram (MCG) said they will get an inspection of the area done and ensure prompt action. "We will inspect the area and take immediate action. Whenever we receive a call from a resident, we rush to the spot and ensure prompt action is taken against the violator. We have been imposing fines and this issue (waste burning) will be dealt with," Vijender Sharma, senior sanitation officer, MCG, said.
Residents said they were being deprived of their basic right to breathe clean air. "We have all been trying our best to bring our plight to the notice of the authorities," Monika Sharma, a resident of CHD Avenue 71, said.