Women attack, lock liquor store in Gurgaon residential area
Apr 16, 2017 11:45 PM IST
The protest was triggered by an incident in which a local girl was harassed. The women who forcibly locked the liquor store on Sunday said the newly opened store has become a nuisance for women in the locality.
A group of protesting women forcibly entered a liquor shop on Sunday, broke some bottles, downed the shutters, and locked the shop at Om Nagar on Gurgaon's Khandsa road.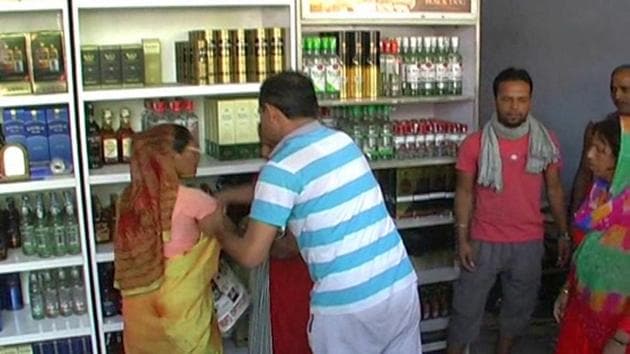 The protestors also blocked the road, which was later cleared after police intervention.
The protestors claimed they resorted to the act as the authorities did not listen to their pleas to relocate the liquor shop located in the residential area. The newly allocated shop was opened on April 1 and residents had protested on April 2. The shop owner had agreed to relocate the shop within four days.
The women alleged that the shop is in the vicinity of two schools and has become a cause of nuisance in the area.
On April 7, residents of the locality had submitted a memorandum to the district administration, police and local MLA seeking removal of the shop from the colony.
"The area has become unsafe for females. It is also creating an adverse impact on school students. It has become tough for us to even get out in the market," said Sunita Yadav, a protestor.
She claimed that on Saturday evening, an incident happened in which a local girl was harassed, after which the residents decided to lock the shop.
"We appealed the authorities to relocate the shop elsewhere but in vain. We have been living in constant insecurity for last several days. We would not let the shop open," said Sumitra, another protestor, who has to cross the shop every day for groceries from the market.
Officials concerned in the excise department said that they would comment on the issue after checking the records. An official said the shop might be relocated after hunting for a suitable place.
Early this month, industrialists in Udyog Vihar had also called for removal of a liquor vend from Phase-4 area as it was leading to law and order problems. People demanding removal of liquor shops are enthused by the Supreme Court order banning sale of liquor within 500 metres from the highways.