History takes a back seat in corporate hub Gurugram
Updated on Aug 12, 2018 09:50 AM IST
Activities that introduce people to a city's history and culture are limited in Gurugram. Heritage activists said that unlike the national Capital, Gurugram was not a popular choice for heritage walks.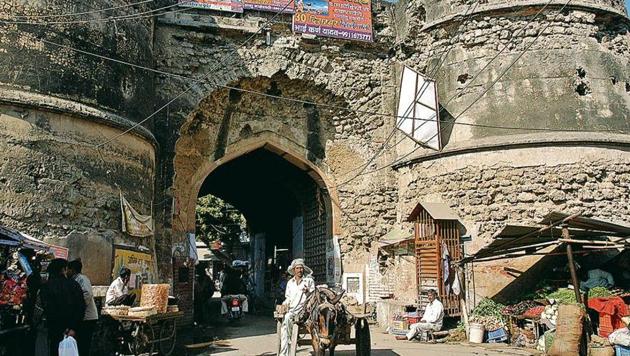 Hindustan Times, Gurugram |
Sadia Akhtar
Despite sharing its border with New Delhi, a city that is popularly identified by its monuments, Gurugram scores low on the heritage space. A conversation around the heritage and history of Gurugram is missing with little awareness among the people about the subject. Why does the city have little to boast of when it comes to history and heritage?
"All I know of this city is malls, wide roads, lofty homes and the overwhelming sense of being unsafe. There has never been any focus on the cultural aspect of the city, its history, its people, the cuisine or the monuments" said Shivanee Harshey, a New Delhi-based designer who visits Gurugram almost every weekend.
"It seems like just one big settlement of metropolitan corporate crowd, what else is there?" said Harshey.
She said the only heritage site she had heard of was The Pataudi Palace, the home of the former ruling Pataudi family, but wasn't sure about its location and had neither visited it.
Photographer Aditya Arya, a long-time resident of the city, said that citizens lack "a sense of inquisitiveness" when it comes to history. Heritage of the city has taken a back seat with an overwhelming focus on pitching Gurugram as a smart city, said Arya.
"The pressure of urbanisation is huge. The city is not planning for the future. Where is the Gurugram culture and heritage? Is it confined to the malls, pubs and clubs? Doesn't heritage constitute a part of the city?" asked Arya.
Activities that introduce people to a city's history and culture are also limited in Gurugram. Walking tours or heritage walks which help people to understand the nuances of heritage sites are becoming a regular affair in most cities. Heritage activists, however, said that unlike the national Capital, Gurugram was not a popular choice for heritage walks.
Vikramjit Singh Rooprai, who conducts heritage walks in New Delhi, said most heritage sites in Gurugram are owned by private individuals who don't allow access to the spaces for heritage tours. "I once chanced upon an old haveli near Sikanderpur and decided to explore. But I was soon chased away by the custodians," he said.
Navin Piplani, a conservation architect, blames the local government for the absence of history and heritage in the social discourse.
"The heritage structures in the city are being utilised for commercial purposes. How will the public get to know about it? Let's take the example of Kaman Sarai. It is an important piece of history. A printing press works from there today. People dismiss it thinking that it is a rundown structure. Opportunities are being lost every day," said Piplani.
He added the government is not doing enough to raise awareness.
"The government needs to take steps to introduce people to the city's heritage. People will not read books or magazines to know about it. Anyway, schools and college are not teaching local history. There is one standard curriculum which ensures that people don't even know about their local heroes," said Piplani.
K C Yadav, a historian, who has been living in the city since 1996, said it was a matter of time before the city wakes up to its heritage.
"It takes time to develop a sense of cultural and social ownership. One can build a house in a city but attachment to the place comes after a pretty long time. After three-four generations, people start owning the city. Efforts from the government can go a long way in making the heritage of the city appealing for locals as well as tourists," said Yadav.