International Women's Day: For this Gurugram woman, mobilising vendors to fight for their rights is pivotal
Mar 10, 2019 03:44 AM IST
Now a recognisable face of the street vendors' association in the city, Meera Devi had not anticipated this role for herself when she first moved to Gurugram as a 16-year-old newlywed from Muzaffarpur in Bihar in 1995.
In August 2018, more than 500 street vendors from various parts of the city came together and decided to sit on a strike to raise their voice against the daily harassment and intimidation they faced from local miscreants. Apart from seeking an end to these tactics, they sought licences, insurance, and government loans as a safety net. Following the protest, the vendors were given assurances that their demands would be met.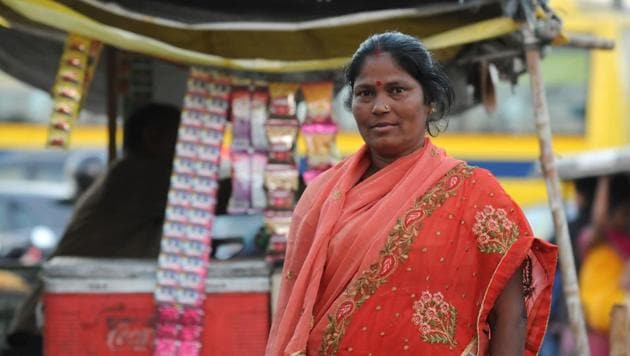 Among the protesters was Meera Devi, who played a key role in mobilising these workers. While the government's assurances didn't bear significant results, the mobilisation instilled a new sense of hope and rigor among the vendors. "It is due to the coming together of the vendors that harassment has reduced. People now respect our rights, and unlike the past, our concerns are not simply brushed under the carpet," she maintained.
Now a recognisable face of the street vendors' association in the city, Meera had not anticipated this role for herself when she first moved to the city as a 16-year-old newlywed from Muzaffarpur in Bihar in 1995.
She and her husband started living in Udyog Vihar and both joined a garments factory, where Meera was a thread cutter. Within one year, she realised that the couple's meagre income as factory workers would not be enough to sustain the family that the couple was planning in the future. A year later, she decided to set up a food vend near the area where Sirhaul toll plaza now exists. Gradually, she was able to secure some clientele from the nearby industrial units, workers of which wanted food, tea and other refreshments.
Work started on a good note but Meera soon realised the difficulties of operating a food cart on a Gurugram road. She was confronted with challenges that ranged from handling local rowdies who demanded monthly protection money to municipal workers who either demanded their share or threatened her only source of livelihood and the police who wanted her to serve them food and tea for free.
"When I started operating my vend, I got a first-hand experience of how the system works against the poor and weaker sections of the society. If one day, local miscreants posed a challenge, the next day it was the municipal authorities who threatened me," she said. In the next 10 years, Meera recalls, "officials" consumed tea and food for more than ?2 lakh but no one was ready to pay the bills.
Unable to accept the injustice, she continued to struggle against the authorities by approaching police and the administration. There was, however, no relief and she had to shift from one spot to another. "From 1995 to 2014, it has been a constant fight. My life revolved around visits to municipality office, police stations, and fights with officials," said Meera.
"One day in 2014, some government official started uprooting my vend. As I stood there helplessly, someone suggested I reach out to the street vendors' union. I decided to join them," she said.
Meera soon came to know there were thousands of vendors like her who were being harassed and made to pay protection money. "I realised the only way of ending this was to come together. With this resolve, I decided to unite the vendors in Udyog Vihar," said Meera, who has extensively foraged into union activities.
In her journey, she has managed to rescue many street vendors. "My food cart was overturned by officials. Meera, however, fought with them and approached every forum to secure justice for me. She has empowered many women like me," said Girija Devi, a vendor in Udyog Vihar.
Rajender Saroha, a senior trade union leader, said Meera was the go-to person if they needed to mobilise vendors in Udyog Vihar. "Meera is a street fighter and she has proved her mettle after joining the street vendors' union. We rely on her for mobilising the vendors in Udyog Vihar. She is fearless and takes the fight of the vendors to a logical conclusion," he said.
Her experiences, Meera said, made her realise the poor could help each other only by uniting. "The MCG gives licence to people who are influential. The authorities should work fairly or else we will have to continue our fight," she asserted.