It's a fight for toe space on Gurgaon metro
Hindustan Times |
, Gurgaon
Abhishek Behl and Ipsita Pati
Mar 14, 2016 04:43 PM IST
Lack of last-mile connectivity, inadequate parking space, poor police security outside stations and unruly auto drivers are some of the issues that a commuter encounters every day.
Every morning, the commute from his home in Naraina to his office in Gurgaon is an ordeal for Gagandeep Singh. An IT professional, Singh first takes the blue line of the metro to the most congested station on the metro map — Rajiv Chowk in Delhi. There he battles the crowd, hops on the yellow line metro to Gurgaon and encounters a second round of jostling at the Huda City Centre Metro station — a gruelling routine that lakhs of commuters endure every day.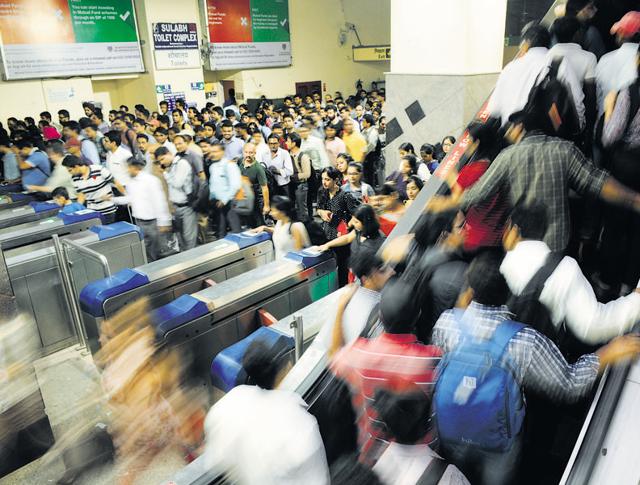 After Gurgaon emerged as a back office of some of the largest corporate firms in the world, its dependence on the Delhi Metro has increased manifold. As Delhi-NCR does not boast an efficient public transport network or congestion-free roads, the metro has become the first preference for most commuters. However, with the ridership increasing by the year, passengers are now struggling to get in and out of the packed coaches rush hours or rather 'crush hours' from 8am to 10am and 6pm to 9pm.
Stay tuned with breaking news on HT Channel on Facebook.
Join Now
"There is too much pressure on the already overcrowded metro service. I spend three hours on it every day, mostly standing, and it is a back-breaking journey," Gagandeep said. "I will switch to a car as soon as I can afford the running cost," he said.
The Delhi Metro Rail Corporation (DMRC) extended the yellow line to Gurgaon during its Phase II expansion in 2010. As per the data from last three months of 2015, the five stations in Gurgaon cater to a daily average ridership of 1.5 lakh.
After the completion of Phase III expansion in 2015, the 48.9-kilometre yellow line from Samaypur Badli to Huda City Centre has an average daily ridership of 9.5 lakh -- more than double the population of Andaman and Nicobar Islands. Only the blue line that connects Dwarka with Noida and Vaishali has a higher ridership — 11 lakh.
Over these five years, commuters have raised several concerns about the five stations in Gurgaon, most significant of which is overcrowding during peak hours. The stations are choked, trains packed and the mob unruly, commuters said.
Although the DMRC claims it has increased the rush hour frequency of trains from 2.38 minutes to 2.08 minutes since last August, commuters said that more needs to be done. "It still takes at least 10 to 15 minutes to board a train during peak hours. I can only catch the third or fourth train after reaching the platform," a commuter said.
As per the DMRC's figures, average daily ridership in December was 52,000 at Huda City Centre, 37,000 at MG Road, 26000 at Iffco Chowk and Sikanderpur, and 12000 at Guru Dronacharya.
Shitiz Bansal, head of technology of a Gurgaon-based IT company Shared Reach, said, "For professionals, using travel time productively is very important, and the crowded metro service is not helpful in this regard."
As things stand, it is clear that the DMRC did not anticipate such a high ridership. The same issue is what is reported to be holding up the Dwarka-Gurgaon metro line as Haryana government is looking for the most profitable alignment.
Read more: Feasibility worries keep proposed Dwarka-Gurgaon metro link on hold
Professor Sewa Ram from the School of Planning and Architecture said the DMRC only considered the captive demand -- estimate of traffic based on past and present data obtained from different sources – in its planning stages.
"They should have considered the induced demand as well. We should learn a lesson from Navi Mumbai where the rail link between Mankhurd and Belapur was built before residential areas were developed there. Still the ridership is well within the handling capacity," he said.
Induced demand or latent demand is the phenomenon that after supply increases, more of a commodity is consumed. The metro has a high induced demand in Gurgaon as people, who normally used buses or private cars to reach the city, shifted to the metro, increasing the ridership.
Apart from overcrowding, commuters said metro stations were not well maintained and last-mile connectivity was still a problem. Limited number of security personnel in and around stations, encroachments by vendors and auto drivers at the gates were some of the problems they pointed out.
"Getting a seat in the women's compartment has also become difficult. The stations are overcrowded and it is no better outside. There are no streetlights near some of the stations and the police presence is also negligible at most of the metro stations," Devika Sharma, who works in a corporate firm, said.
YP Sachdeva, the group general manager of consultant firm RITES, said the only solution to all these problems was to construct two more metro lines. "The network is overused. A line to Dwarka and one along the Northern Peripheral Night will be crucial," he said.
A proposal for Dwarka-Gurgaon metro extension was mooted in 2010-2011 but there has been no significant progress five years later.
DMRC executive director Anuj Dayal said there was an immediate need for a second line to Gurgaon. "The onus is on Haryana government to take a call so that the work on the second line can start," he said.
For the short term, Prof Sewa Ram said the DMRC could introduce trains which jump alternate stations during peak hours. "Another measure could be to charge differential fares, which means fares can be high during peak hours," he said.
Despite all the shortcomings, the metro is still the lifeline for commuters. Arindam Das, business manager, Europe, for IT firm Nagarro, says, "Introduction of shuttle services and cabs and effort to improve last-mile connectivity has helped improve the metro experience. It only takes an hour and 15 minutes to office compared to two hours earlier."