Don't make these dieting blunders if you're serious about weight loss
Jan 18, 2016 08:38 PM IST
From completely depriving yourself of your favourite food to ­skipping meals, here's what you shouldn't do to lose weight.
Have you been on a diet forever and still failed to shed those extra kilos? It could be to do with mistakes that we unknowingly make. We spoke to experts who pinpointed common dieting blunders.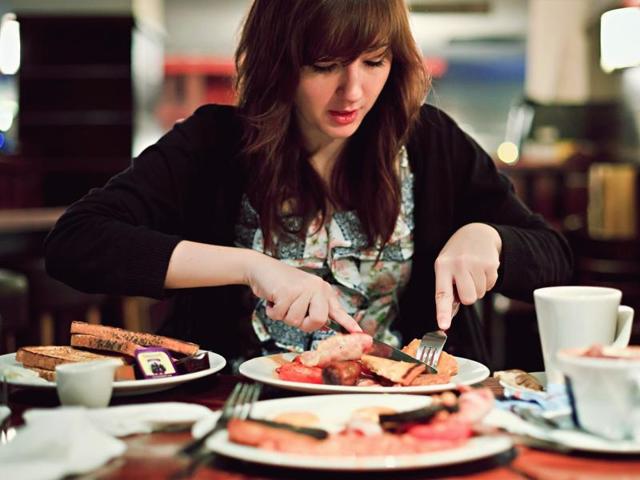 1 Giving it all up: Following a very strict diet plan or giving up carbs or your favourite food is not practical. You will not be able to sustain this for long. Don't make this mistake. Instead, follow a realistic, customised diet plan which balances carbs, proteins and minerals and is high in fibre. Eat smaller ­portions, take six meals a day and a serving of five fruits in the evening.
Read: 11 super healthy 2016 resolutions that don't require dieting
2 Shock Therapy: Have you ever got cramps when you walked on that treadmill after ages? Sudden workout can leave your body shocked and leave you with a never-ending pain. When you begin to exercise after a long time, it's best to begin with a 45 minute walk rather than trying your hand at vigorous workouts.
3 Binging in between meals: Choose your meals and meal timings wisely. For losing weight, you have to burn more calories than you consume. Snacks like chips, biscuits or fried stuff can make you bloat instantly. Don't make this mistake. Instead, have a lot of fluid. Water is your best friend but you can always tweak it with freshly chopped fruits or a few slices of lemon and ­cucumber. Green tea and ­nariyal pani are also good for ­detoxification.
4 Dash Diet: Having ­completely salt-free meals or going on fruits and milk or juices the entire day is a bad idea. You will land up with low BP or sugar levels and a banging head. Instead, follow a proper diet during the day and just have a salt-free dinner like a bowl of cereal and milk or fruit and milk once a week to detox.
Read: Forget dieting, just add these slimming foods to your diet
5 Skipping meals to lose weight slows your metabolism: Don't do this, instead eat frequently. Eat three main meals in a day and three healthy snack meals like fruit or roasted chana or handful of peanuts or nariyal pani or a cup of salad. The key is to eat everything, but in moderation.
6 The unhealthy 4 o' clock snack: This is where most people go wrong. At this time majority of us are hungry. People tend to ­finish the entire packet of cookies or namkeens, ­forgetting that these snacks are loaded with calories. A little change in habit can be really fruitful! Choose a healthy snack, like a cup of roasted chick peas (channa), butter free popcorn or the traditional cucumber tomato mini sandwich with light dressing or one cup of boiled corn chaat or sprouts.
7 After-dinner disasters are most common: Eating a bowl full of sweets or snacking cookies or drinking tea or coffee after dinner is a ritual of sorts. Avoid late night snacking on wheat products. Grab a fruit instead. Also, avoid salt after dinner. Avoid tea or coffee, instead have green tea or a plain cup of milk. This will give your system some rest.
(Inputs by nutritionist Tripti Tandon and fitness expert Sonia Bajaj)
"Exciting news! Hindustan Times is now on WhatsApp Channels
Subscribe today by clicking the link and stay updated with the latest news!"
Click here!