China leads the charge in the lithium-ion manufacturing segment, India playing catch up
May 10, 2017 07:06 PM IST
At the National Solar Summit in Delhi India's reliance on Chinese imports in the renewable energy sector including for lithium ion batteries was seen as a hurdle in being energy self sufficient.
When Nitin Gadkari, India's minister for road transport, highways and shipping, announced last week that India would extend its 'Make in India' initiative to the lithium ion battery backup segment, the push might have be too little, too late.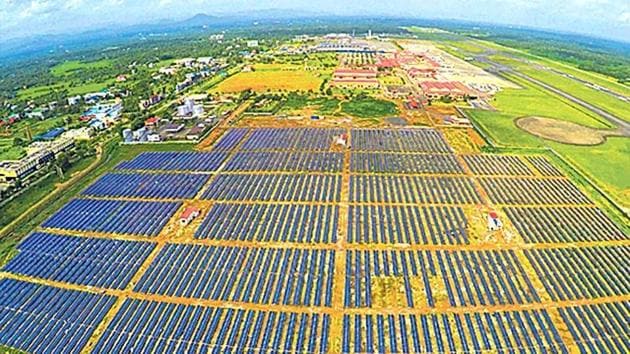 At the National Solar Summit held by the PHD chamber of commerce in New Delhi Wednesday bringing together industry leaders, financiers and experts, the usual sunny outlook about India's solar sector was tinged with an anxiety that India is lagging behind China in turning disruption in the global energy sector into a business opportunity.
"For solar and wind to grow, storage solutions will be key," A M Devendranath, an energy consultant, said.
India is already on the backfoot when it comes to the crucial lithium ion battery manufacturing sector. Lithium ion batteries are the fastest growing storage solutions in particular for the mobility sector. Around 5 million electric vehicles are expected to be rolled out in India by 2020.
"Lithium ion is a fact of life now," Rohit Dhar, CEO of Solar PV Power, said. "Storage has tremendous implications for a country like India."
India's earlier reliance on oil imports from the Gulf was seen as a crutch, but so is the reliance on China for key components in the development of renewable energy solutions.
Total installed renewable energy capacity was at 57. 26 GW or 17.5 % of India's total power generation capacity as of March this year. Solar power accounted for 22 % of the renewable energy mix. India has set itself the goal of installing 100GW of solar power capacity by 2022.
The biggest challenge is that renewable energy sources like solar and wind are considered intermittent sources. They are not considered base load power sources like thermal power because they are not able to consistently meet the minimum power demand. When there is no sunlight or no wind, power generation stops, unlike in thermal power plants where the producer has control over power generation and can ensure continuous supply.
The solution is storage: which is what Lithium ion batteries provide. India is currently importing these batteries. Battery operated vehicles use lithium ion batteries, and hybrid vehicles have also started using them. They have several advantages over the conventional lead batteries. More energy from less weight, they charge quicker, have a longer battery life and
In 2011 the lithium ion battery market was pegged at about $10 billion. The market is expected to be worth $ 30 billion by 2020. India's own demand for lithium ion batteries will grow by a compound annual growth rate of 32% between 2016- 2021.
"China already dominates the solar panel space and it now dominates the lithium ion battery manufacture and drives the business," Devendranath said. "They are going all over the world acquiring raw material."
The Tesla Gigafactory is well known as American energy pioneer Elon Musk's pet project to capture the lithium ion battery market. What has escaped notice is that China has quietly established a dominant position in the market. CHEL, a Chinese company has already surpassed Tesla Gigafactory's installed capacity of 7 GW. They have a capacity of 7.6 GW already and are ramping up their production to 30 GW by 2020.
"Exciting news! Hindustan Times is now on WhatsApp Channels
Subscribe today by clicking the link and stay updated with the latest news!"
Click here!