India's Mars Orbiter completes 1000 days in orbit and is still going strong
Jun 19, 2017 07:07 PM IST
The Mars Orbiter Mission has completed 1000 days in orbit around Mars and is in good health, according to ISRO.
India's celebrated Mars Orbiter Mission (MOM) completes 1000 earth days in orbit on Monday, which is more than 5 times the number of days it was designated to last.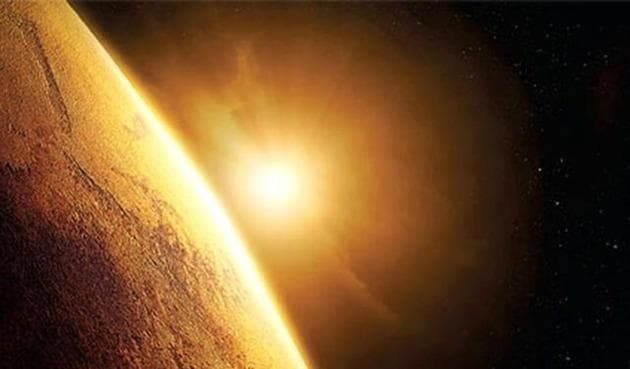 It has outlived its original lifespan but not its utility.
The MOM was launched on November 5, 2013 and entered the orbit of the fiery red planet on September 24, 2014, in its first attempt. The feat was lauded globally not just for the mission's success in its first go but also because it came at a fraction of the cost of similar space missions launched by bodies such as NASA and the European Space Agency.
Foreign countries have lined up to launch their spacecraft on board India satellite launch vehicles and Indian satellites have hosted payloads from other countries because of its consistent record and because it is cheaper.
On January 17, this year, the Mangalyaan performed a manoeuvre to migrate from its original orbit to avoid a risky 8-hour eclipse that threatened to destroy the satellite by draining it of its reserve battery. The reserve power source is designed to last only 1 hour 40 minutes. Eclipses in a satellite's life happen when the earth comes between the space craft and the sun and ground staff lose communication with the space shuttle.
The MOM has now completed 388 orbits of Mars and relayed back a storm of data including over 715 images. The colour camera is only one of 5 scientific payloads on board the Mangalyaan. There is also a methane sensor, an experiment that helps to gauge the solar forcing on the Mars atmosphere, one that measures emitted thermal Infrared radiation and another one that helps to calculate the Deuterium to Hydrogen ratio (D/H ratio) in the planet's atmosphere.
After over two and three-quarters years of waltzing around the red planet, the MOM shows no signs of slowing down and is believed to be in good health.
India is already planning a return to Mars with Mangalyaan 2.0 and a new mission to Venus that will only happen after 2020.