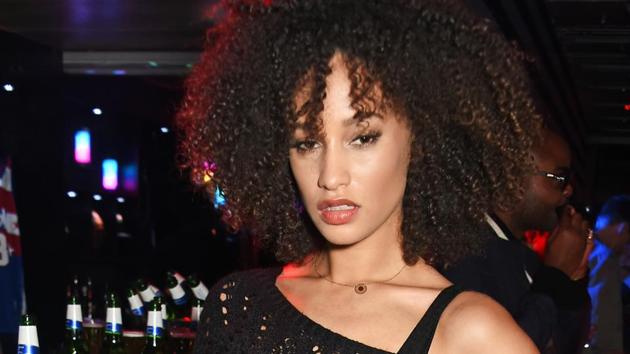 Priyanka Chopra is a most beautiful woman: Harry Potter actor Elarica Johnson
Model-actor Elarica Johnson, a scene-stealer in Harry Potter and the Half-Blood Prince, visits India this month to host Canadian pop star Justin Bieber's Mumbai concert. She talks of her love for Bollywood and many things Indian.
UPDATED ON MAY 05, 2017 12:52 PM IST
Elarica Johnson, to Indian audiences, is the girl who played the gorgeous waitress serving Harry in Harry Potter and the Half-Blood Prince. Now that she's coming to India to host pop star Justin Bieber's maiden concert in this country, it's Johnson's turn to be served… daal and naan, chicken Biryani and lot of other spicy stuff.
The 27-year-old actor-model, who has done a lot of TV work in America, will appear next in Potter author JK Rowling's Cormoran Strike series, which goes on air at the end of this year. She tells us, "I've always wanted to go to India, so I can hardly contain my excitement for this trip. I hope to see and explore as much of the history and culture as possible, hang out with friends, and do a lot of shopping."
Johnson's connection with India began at the age of seven, when she watched the classic Mughal-e-Azam. Growing up, she loved Bollywood. "My friend Chandni made me watch Bollywood films with her all the time. Also Lagaan (2001; starring Aamir Khan) was a huge favourite of mine, along with My Name Is Khan (2010), which had my favourite male Bollywood actor Shah Rukh Khan. I'm also a very big fan of Priyanka Chopra and Jacqueline Fernandez," says Johnson.
Meeting Priyanka Chopra at an event in London was a very interesting experience for Johnson, especially now that Priyanka is an international star, with Quantico and Baywatch. "She told me about her home and how often she gets to go back, considering her busy schedule. We met at a dinner in London. She truly is one of the most beautiful women I've ever met, a down-to-earth individual. I don't know whether it will be possible to meet her when I am in India, because I think she is far too busy! But it would be lovely to see her again," says Johnson.
If Bollywood beckoned, Johnson would come. She says. "There are so many amazing directors in Bollywood and I'd be excited to work with any one of them. Karan Johar did a great job with My Name Is Khan and it would be amazing to work with him. And with Imtiaz Ali, too, as I enjoyed watching Tamasha (2015). Also, Varun Bahl, Manisha Malhotra, Tarun Tahiliani and Masaba Gupta are all spectacular designers with an eye for stunning fashion."
Currently, she is shooting for a movie, but can't reveal much about it, except that she is "very excited to be a part of an upcoming blockbuster". Her focus, of course, is on the Bieber concert. "He's a great all-round artist with an amazing voice. Justin never seems to disappoint me with his songs! My favourite at the moment has to be Sorry… it always gets me dancing!" says Johnson, a self-confessed Bieber fan.
Follow @htshowbiz for more

Close