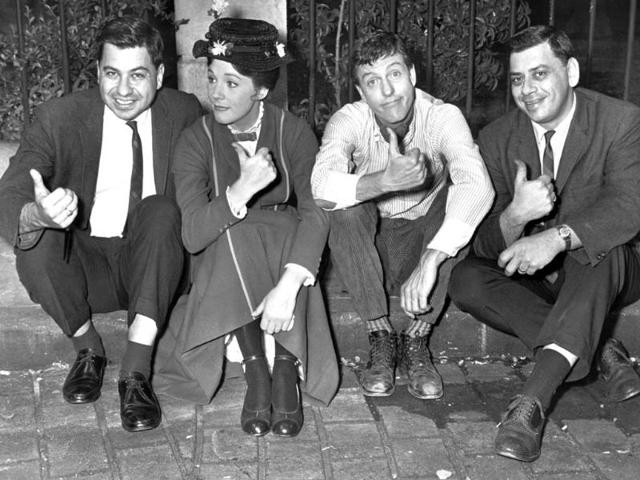 'Supercalifragilisticexpialidocious' composer Robert B Sherman dies
How do you sum up the work of songwriter Robert B Sherman? Try one word: 'Supercalifragilisticexpialidocious.'
UPDATED ON MAR 08, 2012 09:14 AM IST
How do you sum up the work of songwriter Robert B Sherman? Try one word: 'Supercalifragilisticexpialidocious.'

The tongue-twisting term, sung by magical nanny Mary Poppins, is like much of Sherman's work - both complex and instantly memorable, for child and adult alike. Once heard, it was never forgotten.

Sherman, who died in London at age 86, was half of a sibling partnership that put songs into the mouths of nannies and Cockney chimney sweeps, jungle animals and Parisian felines.
Robert Sherman and his brother Richard composed scores for films including The Jungle Book, The Aristocats, Mary Poppins and Chitty Chitty Bang Bang. They also wrote the most-played tune on Earth, It's a Small World (After All).
Sherman's agent, Stella Richards, said Tuesday that Sherman died peacefully in London on Monday.
Son Jeffrey Sherman paid tribute to his father on Facebook, saying he "wanted to bring happiness to the world and, unquestionably, he succeeded."
Jeffrey Sherman told The Associated Press that his father had learned the craft of songwriting from his own father, Tin Pan Alley composer Al Sherman.
"His rule in writing songs was keep it singable, simple and sincere," Jeffrey Sherman said.
"In the simplest things you find something universal."
Robert Sherman knew another truth, his son said: "What seems so simple is really very complex.
"He was a very simple guy, complex but simple. If you ever want to know about my Dad, listen to the lyrics of his songs."
Robert A Iger, president and CEO of The Walt Disney Co, said in a statement that the company mourned the loss of "one of the world's greatest songwriters and a true Disney legend."
Three Broadway marquees, including The New Amsterdam Theatre, where Mary Poppins is playing, were to dim their lights on Tuesday night in Sherman's honor.
The Sherman Brothers' career was long, prolific and garlanded with awards. They won two Academy Awards for Walt Disney's 1964 smash Mary Poppins - best score and best song, Chim Chim Cher-ee. They also picked up a Grammy for best movie or TV score.
Their hundreds of credits as joint lyricist and composer also include the films Winnie the Pooh, The Slipper And The Rose, Snoopy Come Home, Charlotte's Web and The Magic Of Lassie. Their Broadway musicals included 1974's Over Here! and stagings of Mary Poppins and Chitty Chitty Bang Bang in the mid-2000s.
"Something good happens when we sit down together and work," Richard Sherman told The Associated Press in a 2005 joint interview.
"We've been doing it all our lives. Practically since college we've been working together."
The brothers' awards included 23 gold and platinum albums and a star on the Hollywood Walk of Fame. They became the only Americans ever to win First Prize at the Moscow Film Festival for Tom Sawyer in 1973 and were inducted into the Songwriters' Hall of Fame in 2005.
President George W Bush awarded them the National Medal of Arts in 2008, commended for music that "has helped bring joy to millions."
Alan Menken, composer of scores for Disney films including The Little Mermaid, Beauty And The Beast and Aladdin, said the Sherman brothers' legacy "goes far beyond the craft of songwriting."
"There is a magic in their songs and in the films and musicals they breathed life into," he said Tuesday.
Robert Bernard Sherman was born in New York on Dec. 19, 1925, and raised there and in Beverly Hills, California.
The brothers credited their father with challenging them to write songs and for their love of lyrics. Al Sherman's legacy of songs includes You Gotta Be A Football Hero, (What Do We Do On A) Dew-Dew-Dewy Day and On The Beach At Bali-Bali.
Robert Sherman's affection for Britain was nurtured during his service with the US Army in World War II. One of the first American soldiers to enter the Dachau concentration camp - and, his son said, the only Jewish serviceman there - he was shot in the knee in Germany in 1945.
Recovering in hospitals in England, he developed a fondness for and familiarity with the country that stuck with him. He wrote for British characters in Mary Poppins, Chitty Chitty Bang Bang and Winnie the Pooh, and spent the last years of his life in London.
After the war, the brothers started writing songs together. They began a decade-long partnership with Disney during the 1960s after having written hit pop songs like Tall Paul for ex-Mouseketeer Annette Funicello and You're Sixteen, later recorded by Ringo Starr.
Though they were estranged for a number of years, the brothers never completely broke ties. When asked about that, Richard Sherman said: "We're human. We have frailties and weaknesses. But we love each other very much, respect each other."
They wrote over 150 songs at Disney, including the soundtracks for such films as The Sword And The Stone, The Parent Trap, Bedknobs And Broomsticks, The Jungle Book, The Aristocats and The Tigger Movie.
Most of the songs the Shermans wrote - in addition to being catchy and playful - work on multiple levels for different ages, something they learned from Disney.

Close