Kashi Tamil Sangamam: A true example of unity in diversity
Published on Nov 23, 2022 12:19 PM IST
The article has been authored by Chamu Krishna Shastri, chairman, Bharatiya Bhasha Samiti, ministry of education (High Powered Committee for the Promotion of Indian Languages) and Padmashree receipient.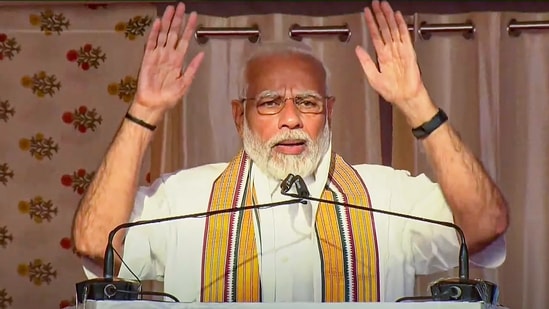 Varanasi, known popularly as Kashi in Tamil Nadu, is one of the oldest living cities of the world endowed with a civilisational and cultural continuum that is unparalleled. Knowledge, philosophy, culture, language, literature, arts and crafts have all flourished in this holy city on the banks of Ganga. Temples and pathashalas, eateries and pan shops at the ghats, lanes and by-lanes of Kashi along the Ganga have been witnessed daily scholastic chats and debates for thousands of years.
The Tamil language and its classical literature have been great repositories of Indian knowledge systems since the time of Tolkapiar written by Rishi Agastyar. Tamil Nadu not only has an abundance of culture, arts and crafts, but temples built with highest quality of shilpa shastra and architecture structures built with mathematical precision. The Kallanai dam across Kaveri river built during the reign of Chola King Karikalan in150 CE, which is the oldest in India that is still in use, is an engineering wonder of that time. Both the cities, Kashi and Kanchi, had vishwavidyalayas, the highest seats of learning since ancient times. From time immemorial, if Kashi was the aspirational city of higher education, Tamil Nadu was the aspirational land of applied knowledge. If Kashi saw the zenith of pandita parampara, Tamil Nadu saw the peak of Tamil ilakkiaparambarai (Tamil literary tradition). These are illustrations which show how the two regions of Bharat, Kashi and Tamil Nadu were the cradles of the heritage of knowledge.
The foundations of this heritage were nurtured on the banks of both the Ganga and Kaveri. From Varanasi to Rameshwaram, all the languages and their literature have been fountainheads of an all-inclusive cultural inspiration and the bonds of unity and harmony. Seeing and understanding this unique manifestation of India's civilisational treasure is the pathway to experience and appreciate the unique knowledge heritage of India which is intertwined with unity in diversity, something rare in any other country. As part of the Ore Bharatham Unnadha Bharatham (Ek Bharat Shreshtha Bharat) vision of Prime Minister Narendra Modi, Kashi Tamil Sangamam will further strengthen the common experience, appreciation and bonds among the people of Tamil Nadu and Varanasi.
Kashi Tamil Sangamam, a month-long festival which began on November 17 and will go on to December 16 is also Tamil Kartiga Maasam and is being organised by ministry of education under the guidance education minister Dharmendra Pradhan. Indian Institute of Technology, Madras, through its website www.kashitamil.iitm.ac.in will select and send 2,500 delegates to Varanasi in 12 groups of about 210 each. These will comprise students, artisans, literature, spiritual practitioners, businesspersons, teachers, entrepreneurs, and those working in temples. Banaras Hindu University is hosting the Sangamam festival on its campus; 12 seminars will be organised on the domain subject of each group for interaction between scholars, experts and practitioners to learn from each other. Cultural programmes will be held every evening throughout the month, showcasing all forms of arts from Tamil Nadu. Exhibitions and sales stalls of all types of handicrafts, handlooms and unique products of Tamil Nadu and stalls of classical Tamil texts with There will also be food courts, workshops and book readings at the venue. The delegates will also visit all the prominent cultural and heritage attractions in the region.
Tamil is one of the oldest languages in the world. Its knowledge and cultural heritage are one of the richest in the world. Tamil's contribution to the development, sustenance, unity and harmony of India is unparalleled.
Bharatiya languages have co-existed, complemented and nurtured each other throughout the ages. Languages shape the mind and wisdom of the society. Languages bring people together. India is a multilingual society.
Languages are the medium to pass on shared experiences of people from one generation to another, from one region to another, and from scholars to the public. Kashi Tamil Sangamam with its focus on diversity in unity will bring minds and hearts together and will strengthen the ageless bonds of boundary-less people.
The article has been authored by Chamu Krishna Shastri, chairman, Bharatiya Bhasha Samiti, ministry of education (High Powered Committee for the Promotion of Indian Languages) and Padmashree receipient.
Topics