Hello and welcome to Mind the Gap, a newsletter that looks at the week's gender developments. Unprecedented protest in Iran caused by the death of 22-year-old Mahsa Amini in custody and the conclusion of hijab arguments in the Supreme Court in India. But, first, I met Iceland's outspoken First Lady Eliza Reid in Reykjavik. Read on…
IN HER WORDS: Iceland's First Lady Eliza Reid on what makes her country the world's best for women
She's an author, entrepreneur, speaker, mother and a proud feminist. Canada-born Eliza Reid, married to the president of Iceland, Gudni Johannesson is also a First Lady. Unshackled by protocol, Reid who once famously asserted that she is not her husband's handbag is out with her first book, Secrets of the Sprakkar: Iceland's extraordinary women and how they are changing the world.
Between attending Queen Elizabeth II's funeral in London and flying off a day later to Toronto, I was able to speak to her at the presidential residence in Alfatanes, just outside Reykjavik, about her book, why she admires women who speak up and how gender equality is good for everyone.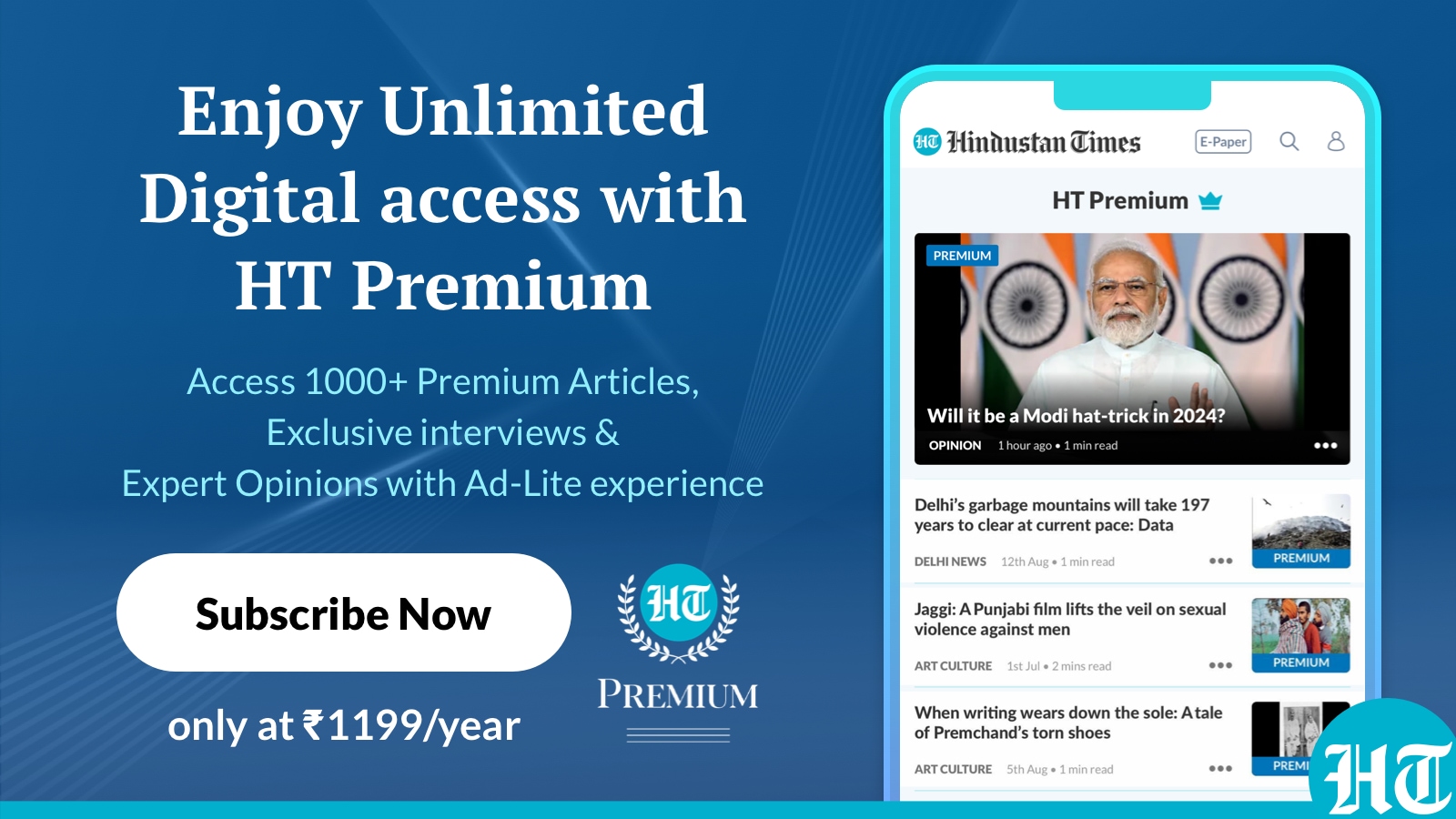 Q: Ever since you became First Lady of Iceland in 2016, you've been very vocal about one thing and that is you are not your husband's handbag. Could you elaborate?
Eliza Reid (ER): It's a bit of a clumsy metaphor, but somehow struck a chord. It comes from the idea that there are sometimes assumptions that because I'm married to the president, I am an accessory at his disposal all the time.
I wrote an article in The New York Times to say that I am a person with my own identity and am not an accessory to compliment my husband's image or enhance his reputation. Of course, I'm very proud to be his wife and of his accomplishments and I hope he is proud to be my husband.
When I wrote this article, I wondered at first if people might think: "Who is this privileged woman complaining about nothing?" But actually, even though not many people are married to heads of state, a great many, especially women, have spouses who, for whatever reason, are better known than they are and they then become known as so-and-so's wife. So, somehow a lot of people remembered that line and could relate to it.
Q: A lot of people seem surprised that you have a career and job outside of being the First Lady.
ER: I've long been freelancing in the writing and editing world. When my husband was elected president, I was doing a number of projects: Working one day a week for a company doing corporate writing; editing Icelandair's in-flight magazine; running an annual event called the Iceland Writers Retreat, which I still do.
When Gudni became president, I gave up some of those projects, because it was full time doing all of that. But in principle I wanted to keep my own work. I thought, "Why should I get a new job because my husband has a new job?" The writers retreat is my professional baby; it's what I created. So I have continued with that work. I have also written a book and been touring to promote it. And I work with Business Iceland to promote Iceland as a business and tourism destination.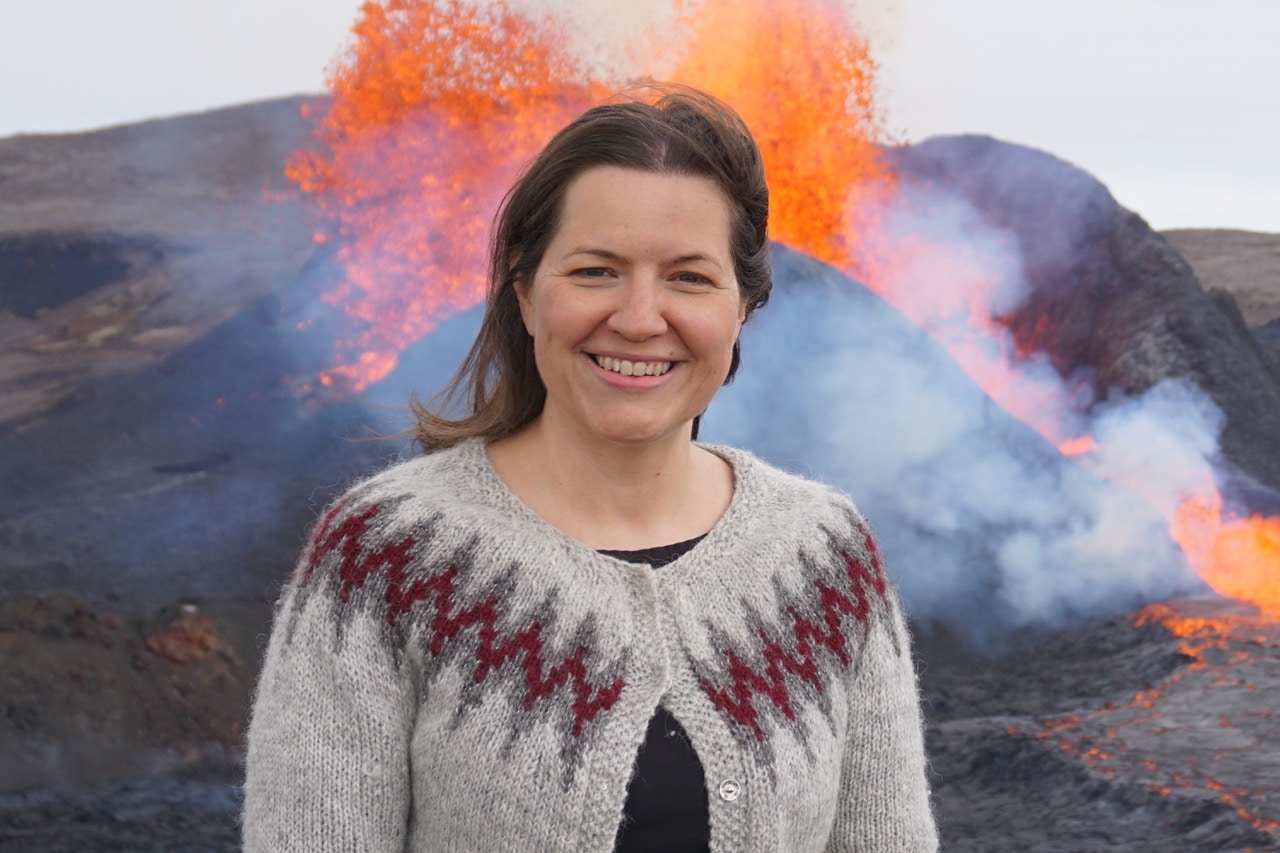 Eliza Reid: The First Lady of Iceland (Source: By Special Arrangement)
Q: What led to this book?
ER: In Iceland, we have a phrase 'everyone walks with a book in their belly'. I've worked so long with writers and literature that people would always ask me, "What's the book?" And I would reply that I'm not working on a book because I have a job and I'm First Lady and I have four kids.
But I always wanted to write a book; I just never had an idea for one. Then the pandemic happened and everything shifted for so many people. We had to cancel our writers retreat. There were fewer events to attend as First Lady and for Business Iceland. My time shifted in terms of ideas coming up.
Then it occurred to me one day that we are very proud in Iceland of what we have achieved when it comes to gender equality, even though we still have a long way to go. I'm very proud as an immigrant here for my life in this new country. So, given my background in writing, and especially travel writing and journalism, and my interest in the theme of gender equality, I thought it would be nice to paint a portrait of a country using that as the theme.
I didn't want to write a book that was an academic textbook or an angry diatribe on what's wrong with the world, but something inspirational where we can hear different people's voices. Stories of what it's like to be a mother or a politician or a writer or a business person in Iceland. I deliberately chose women who were not the obvious ones you'd think of. I didn't choose Bjork, the singer, or our first president Vigdis Finnbogadottir. I wanted to choose women everybody can relate to.
These women are sprakker, the plural of a word sprakki, which is a very obscure word in Icelandic that even my husband had never heard of, which makes me feel a bit smug. It means 'outstanding women'. Even just the fact that that the Icelandic language has a word that defines only women in exclusively positive way says something. In English, I can't think of any word like that.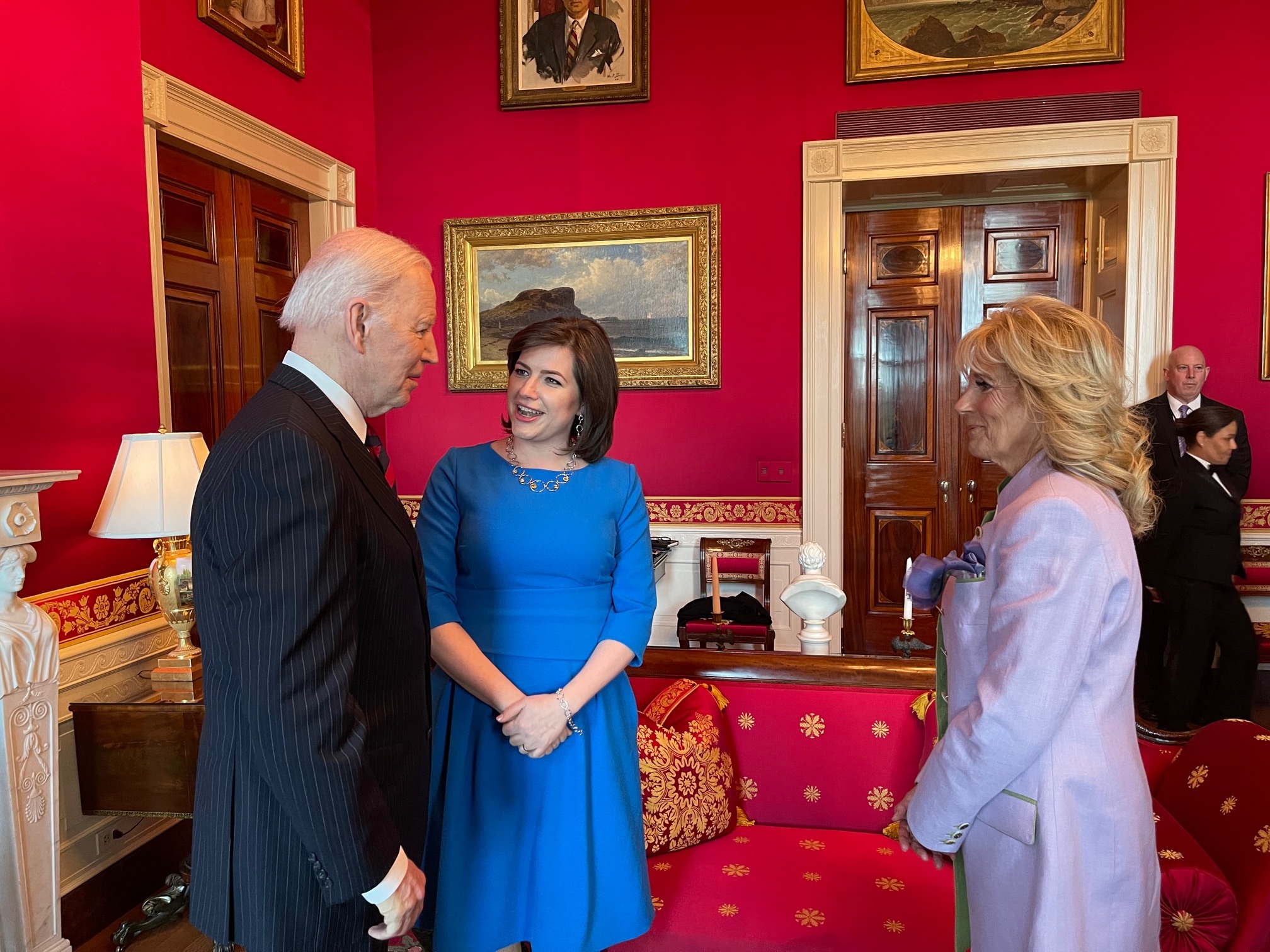 Keeping up with the Bidens (Source: By Special Arrangement)
Q: Iceland is ranked as the best place in the world to be a woman but, as you said, still not perfect. What are the challenges you see?
ER: Three things. One is gender-based violence. It's the 'Nordic Paradox' that we have higher reported rates of gender-based violence than what one might expect. Maybe it's because there is more trust with the police and less stigma to talk about it. The law and the definition of what constitutes gender-based violence is broader. But at the end of the day, there are still these cases and a very, very low rate of conviction. Right now a group of people are taking the government of Iceland to the European Court of Human Rights and it's an interesting case to follow.
The second is the corporate world. We have quotas, for instance, for the boards of publicly traded companies. We also have legislation, that means you have to prove equal pay for equal work. But we still don't see enough investment by women, enough investment in women-led organizations or women running companies.
When I wrote the book, there were no women who were running companies that were traded on the stock exchange. Ever since its publication, there are now three. There are two new companies that have joined the stock exchange led by women and one company that switched CEOs and is now run by a woman. So we're getting there but it's slow and something we need to look at because if it's always men controlling the pocketbook and controlling the purse, that's going to be a challenge.
Third, I would say, is to remember that working towards gender equality is not for one specific group of people. We have to be very broad in terms of leaving no group behind. That includes immigrant women, women of colour, women with disabilities, queer women, all of the groups.
Gender equality isn't something for women, it's for everybody. Men benefit from this as well.
Q: Yet, all over the world, we are seeing a backlash. The pandemic has taken us back several decades. Even now, you see the pushback whether it's abortion rights in America, or the right not to wear hijab in Iran or the rise of the right-wing in Sweden.
ER: The World Economic Forum was the first report to come out after the pandemic that showed we had lost over 30 years--an entire generation. The backlash tells us just how important it is to be vigilant.
Q: How does one be vigilant when you see the horrific violence unleashed against women and girls for just wanting to go to school, for instance?
ER: It's a huge question, and I feel in many senses unqualified to answer it because I am in a very privileged position in a very privileged country. I need to be aware of that when I'm commenting on things.
One dimension is trying to reinforce or build up this idea that working towards greater equality is not a zero sum game. If I try to support you and lift you up, it's not to push somebody else down. It's trying to work to create a level playing field for everybody.
Countries that are more gender equal have happier, more peaceful, longer living populations.
Q: Exactly. Everyone knows how GDP will go up if women participated in the workforce at par with men. But in India, women are falling off the labour force to reach their lowest level in decades.
ER: Even when we are as women getting more active in the workforce, we are not necessarily giving up everything at home. There's a mental load on women who are looking after all the food, remembering all the birthdays or doing all the cooking. In Iceland, men will say, "I load the dishwasher." But it's still the women who say, "Well, are you going to unload it now?"
In many countries, it's still the woman who does all the cooking and there's a small number who will say, "He can't cook as well as I can. So I'm not going to let him do it."
But we can't do it all. I certainly can't have a full time job and run an amazing household and be in perfect shape. Nobody can do it all. And when we have all those expectations, it causes a lot of sort of stress and burnout that can be difficult to manage.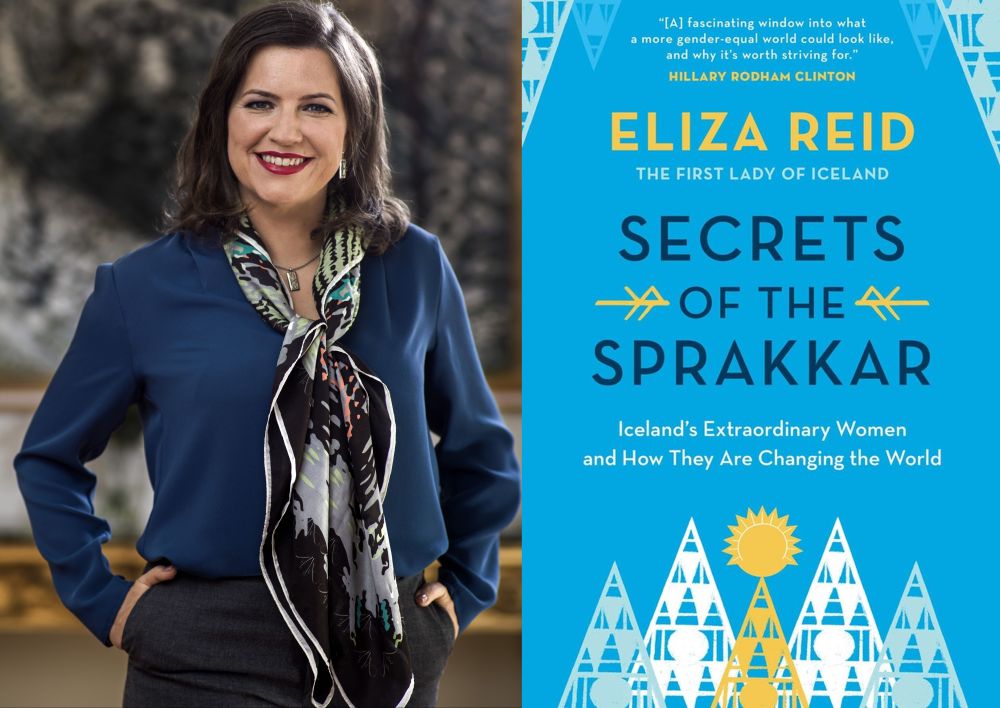 (Source: By Special Arrangement)
Q: Coming back to the book, how did you choose the women?
ER: It wasn't terribly scientific. I started by thinking of the different chapters and categories: Motherhood, friendships, media, arts, and culture, politics. Then I thought about who I could speak to for each one. There's quite a strong memoir element to the story and the narrative thread is really my own story.
Q: I really read it as a love song to Iceland.
ER: Yes, exactly. It's exactly a love story to the country. So often, I chose women that I knew somehow or had a personal connection to. Beyond that I wanted to try to be as diverse as I could with the subject. So sometimes I thought, "I need someone who is very young or older, or I don't have a woman with a disability." For example, in the chapter on corporate Iceland, I also tried to choose women who represent the three main industries in Iceland, which is fisheries, tourism and energy. I tried to be comprehensive so that people would learn a little bit about the country overall.
Q: Who are the women who inspire you in Iceland and outside?
ER: I am very fortunate to have had wonderful role models growing up in my own family.
Even though I grew up in a family with very traditional gender roles, I always grew up knowing that I could do whatever I wanted to. For example, my grandmother was a nurse in the Second World War, and Canada was the only country that sent women to the front with the troops and she was in the operating room.
I have great admiration for women who run for public office. I feel very spoiled because I got this platform because of something my husband achieved. I can talk about gender equality, even though my husband did something. I haven't run for public office. I didn't have my whole history or face the wrath of trolls the way many women who go into politics do. Women who are told, "You're not friendly enough," or, "You're too friendly," or "Can't you wear this instead?"
We need to hear women's voices more. Women who really put themselves in the firing line, journalists and women who report on difficult topics and get death threats. Those people are my role models; the people who speak up and talk about injustice, often at great personal risk.
That's what I wanted to do with this book, write about people who are living extraordinary lives and don't always appreciate that themselves. That's what I wanted to get across. We are all role models. We can choose to be negative role models or positive role models. And some of us have more people who hear us than others. But we all have an impact on those who are around us.