Virat Kohli-Anil Kumble rift: Another setback for Indian coaches, says Madan Lal
May 31, 2017 07:28 PM IST
Indian cricket team head coach Anil Kumble and captain Virat Kohli are engaged in an alleged rift, according to some media reports. Former India player and coach Madan Lal says the entire episode comes as another setback for Indian coaches
If results are an indicator, Virat Kohli and Anil Kumble have forged a formidable partnership, which can only grow with time and earn India laurels.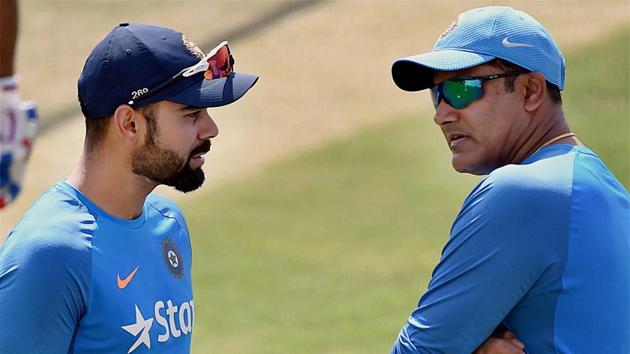 Yet, if rumours are to be believed, things are being made increasingly difficult for the coach to continue in his job. It is not just the story about Kumble; it's the sad tale of Indian coaches, for whom the future is perennially uncertain, to say the least.
The former India skipper is in danger of meeting the same fate as his predecessor Ravi Shastri, who was dumped unceremoniously after just one-and-a-half years in the job, though he didn't do badly either. Barring Ajit Wadekar in the 1990s, Indian coaches have never been allowed to serve a reasonable tenure for various reasons.
Kapil Dev, Madan Lal, Anshuman Gaekwad and Sandeep Patil served for limited periods, before being ousted. In comparison, South Africa's Gary Kirsten left on his terms, and the likes of John Wright, Greg Chappell and Duncan Fletcher enjoyed long stints. Chappell had the most controversial reign and Fletcher the most unproductive.
READ | Virat Kohli-Anil Kumble rift: Sunil Gavaskar says captain, coach can disagree
Kapil and Madan Lal had tough stints in terms of results, but even though Kumble and Shastri had good runs, they find themselves becoming victims of cricket politics.
Shastri was shown the door by using the platform of Cricket Advisory Committee, despite the captain's backing. Kumble is in the firing line of the BCCI and the captain.
Indian cricket board officials were never comfortable with Kumble after he took up the matter of players' salaries, and now Kohli has lent them his shoulder to fire the bullet.
Kumble is a hard taskmaster but most successful coaches are like that. Take for example former Manchester United manager Sir Alex Ferguson, who was authoritarian, but his style of functioning earned the top English football club many laurels.
READ | Rahul Dravid best candidate to replace Anil Kumble as India coach: Ricky Ponting
Kumble has a sharp cricketing acumen. He comes up with thorough plans on his laptop and notebook after visualising various situations. He pushed himself hard as a player.
During his playing days, even when he was not the captain, he cut an imposing figure in the dressing room along with Sachin Tendulkar.
Their teammates couldn't relax as they demanded 100 per cent on the field. It helped India become a force in the sport. So, the BCCI shouldn't entertain complaints of him being a hard taskmaster, because it's the requirement of the job.
Madan Lal, who was at the receiving end of players for being tough, termed it a sad situation for Indian coaches. "It all depends on players, whether they like the coach or not. When I was coach, (I was told) players were not happy with me. What could I do?" said Madan Lal, who felt that Indian coaches, perhaps, lacked in man management.
READ | Virat Kohli is no Sachin Tendulkar, says this Pakistan cricket great
"It (Kumble episode) is another setback for Indian coaches. I don't know why Indian coaches don't get longer stints. It is the players who decide. In countries like Australia, coaches are given a lot of power and they also know how to manage things," said the former India coach.
"In India, players are seen as stars, in other countries they are just sportspersons. Our cricketers are made into heroes, which is wrong. Here (in India), you have to be very close to the captain and agree with all the small, small things he says."
Analysing the longer stints of foreign coaches in India, Madan Lal said they don't talk to the press and manage the egos well.
In the current drama, the bottom line is how can the selection of Kuldeep Yadav be an issue at all when he won India the Test and the series?