Use of human shield not norm, situations dictate tactics: Army chief Bipin Rawat
Agencies, New Delhi |
Agencies
Jun 08, 2017 09:07 PM IST
The situation in Kashmir would normalise soon, and was not as bad was being made out in the media, army chief Bipin Rawat has said.
Indian Army chief General Bipin Rawat has said use of human shield is not a norm but individual officers are entitled to decide tactics depending on circumstances.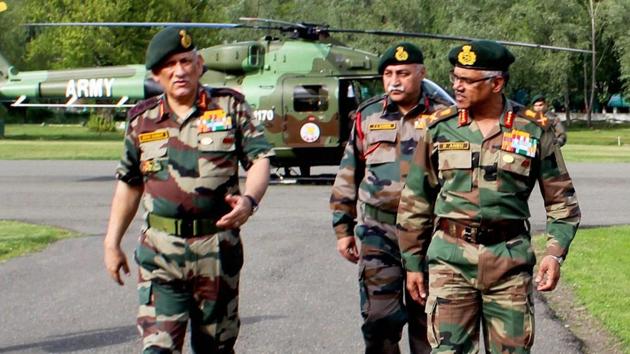 He also said India was ready for "two-and-a-half front war" in a reference to Pakistan, China and internal security threats.
Situation in Kashmir would normalise soon and was not as bad was being made out in the media, he said in interviews to two news agencies.
"It (human shield) is not a general norm. As a practice it is not supported. But situations would dictate. Under the circumstances he (major Leetul Gogoi) took a decision independently. He can't look back at that stage and wait for orders. I think in his own wisdom he took the action," Rawat told IANS.
"If somebody has any other ideas as to how to tackle such a situation, then he can pass it on to us. We will take a look at it."
Rawat was talking about the criticism he faced for his remarks defending Gogoi for tying a civilian to the bonnet of an army jeep for a safe passage through a crowd of stone-pelters in the Valley.
To CPI-M leader Prakash Karat accusing him of instigating Kashmiris to take up arms over his reported remarks that stone-pelters rather use guns, Rawat said he was misquoted.
He dismissed criticism that the army was trigger-happy and said the level of violence in Jammu and Kashmir needed to be brought down for a meaningful dialogue with stakeholders.
"Dialogue and violence cannot go together," Rawat told told IANS.
The chief, who served the border state extensively, rejected reports of Kashmiris being "angry" with the army.
"I don't think there is that kind of resentment… Look at the way the youth are coming to join the army in large numbers," he told IANS.
"Violence had come down after 2011-12. What have the army or security forces done (to evoke anger)? Army cannot be faulted for the killing of Burhan Wani. Something is happening behind the scene, someone is instigating people."
Pakistan was using social media to stoke unrest in the Valley.
"Pakistan is spreading disinformation among the youth of Kashmir with doctored videos and messages...," Rawat told ANI.
Security forces and installations have come under increased attacks in the Valley as well as the line of control, the de facto border between India and Pakistan.
On Thursday morning, a soldier was killed as the army foiled an infiltration bid along the LoC in Nowgam sector. Two militants were also killed in the operation that was on when the reports last came in.
Government estimates that around 200 militants are active in the Valley. Groups such as the Jamaat-ud-Dawa are aggressively using social media to woo youngsters.
Messaging platforms like WhatsApp have come under increased scrutiny especially for their role in getting stone-pelters at the sites of anti-militancy operations.
The army chief said the force regularly raised the issue of modernisation with the government and it was going well.
The Indian military, which needs to scale up capabilities to keep pace with China's defence modernisation, is in the process of acquiring big weapons and systems. India was the world's fifth largest military spender in 2016.
(With HTC inputs)