7 civilians among 11 killed in Kashmir after encounter, protests, situation tense
Hindustan Times, Srinagar |
Mir Ehsan
Dec 15, 2018 10:51 PM IST
The encounter broke out early on Saturday after security forces launched a cordon and search operation in Sirnoo village of the district, a police officer said.
Seven civilians were killed and many more injured on Saturday when security forces opened fire on residents trying to disrupt a joint operation launched by the army and the police in South Kashmir's Pulwama district in which three militants and a soldier died.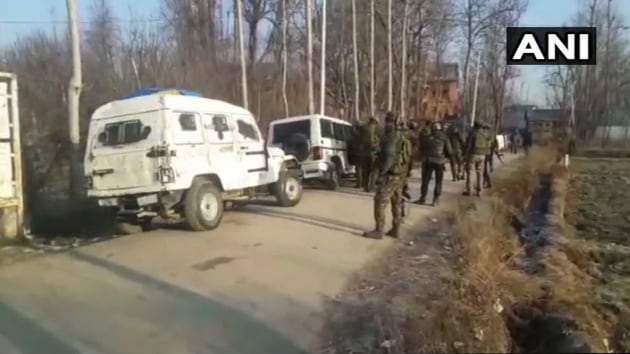 The killing of civilians in the village of Sirnoo triggered several protests in Pulwama , where people blocked roads at several places. The Internet was suspended in Central and South Kashmir amid concerns that protests could spill into other areas.
The slain militants included Zahoor Ahmed Thokar, a former soldier who later joined the Hizbul Mujahideen.
Residents of Sirnoo said the army and the Special Operation Group of Jammu and Kashmir police launched an operation against suspected militants on Saturday morning in the village, around two kilometers from Pulwama town, and killed three militants in a gunfight. One soldier was also killed in the operation and another injured.
The militants were holed up inside an orchard when the security forces launched the operation. As the operation was underway, locals headed towards the site of the shootout and threw stones on the security personnel. Army soldiers and the police retaliated with gunfire, killing one civilian on the spot.
Chief medical officer, Pulwama, Abdul Rashid Para said 32 people with injuries were brought to hospital. "Six succumbed to their injuries in hospital and 14 were referred to Srinagar," he said.
Locals blamed the army and the police for what a survivor described as avoidable gunfire. "The army opened fire when locals pelted stones on their vehicles while the operation was nearing the end. The locals were angry after forces killed the militants and were leaving the encounter spot. The soldiers could have avoided these killings,'' said an injured civilian being treated in a Srinagar hospital.
Jammu and Kashmir Governor Satya Pal Malik ordered a probe into the deaths of the civilians. He appealed to people to stay away from encounter sites while directing divisional commissioner, Kashmir, to inquire into Saturday's incident, an official spokesperson said.
A police spokesman said the operation was launched on the basis of credible information that some militants were hiding in the orchard in Sirnoo. The militants in hiding opened fire on the security force engaged in the operation, triggering the shootout, the spokesman said.
In New Delhi, a senior home ministry official said troops of 55 Rashtriya Rifles of the Indian Army, the Special Operations Group of Jammu and Kashmir Police as well as the Central Reserve Police Force moved into Sirnoo village around 4 am. "We established contact with the terrorist around 7.45am," the official, who is not authorised to speak to the media, said. The gun-battle with the terrorist ended in about half-hour, he said.
"Around 8.30 am, as the troops were withdrawing, locals from Pulwama town and adjoining areas moved in and started throwing stones," an officer of the CPRF, who did not want to named, said. "As the troops were trying to save themselves from incessant stone throwing, some of the locals tried to climb onto a Mine Resistant Ambush Protected Vehicle carrying troops. "Troops were forced to retaliate, leading to deaths of the civilians."
Bodies of all the civilians were handed over to their families and buried in their villages amid protests.
"Touseef had suffered injuries in the stomach and was shifted to Srinagar; however, he succumbed to his injures before he reached hospital. He had left his house in the morning and got killed near the village where operation was underway,'' said Bashir Ahmad, a resident of Uricharsoo and neighbor of Touseef, 27 who was among the civilians killed.
He is survived by five sisters and two young children. "What will happen to this family now. For them he was only source of income," Ahmad said.
The other civilians killed were identified as Shahbaz Ali of Monghama village, Suhail Ahmad of Bellow, Liyaqat Ahmad of Parigam, Amir Ahmad Palla of Ashminder and Abid Hussain Lone of Kareemabad. Lone is survived by an Indonesian wife and their three-month-old baby. Pursuing an MBA in Indonesia, Lone had married a local there and returned to his village along with his wife recently.
Mirwaiz Umar Farooq, chairman of the separatist Hurriyat Conference, termed the killing of civilians a massacre and called for three days of mourning and protests.
"From today onwards there will be mourning and complete protest strike will be observed all across Kashmir for three days. It is a massacre. The government of India, which controls us, has decided to kill Kashmiris through its armed forces. People will march towards Badami Bagh Army cantonment on Monday to ask the government of India to kill all of us at one time rather than killing us daily.''
Former J&K chief minister and National Conference vice president Omar Abdullah termed it a badly executed encounter. ''7 dead. There is no explanation for this excessive use of force, none whatsoever. This is a massacre & that's the only way to describe it.''
People's Democratic Party chief and former CM Mehbooba Mufti said no country could win a war by killing its own people. "I strongly condemn these killings, and once again appeal for efforts, to stop this bloodbath,'' she tweeted.
The preparedness of security forces would, in the context of the Pulwama incident, be the ability to make the distinction between combatants and non-combatants, People's Conference chairman Sajjad Lone said. "If u end up killing 7 civilians in order to kill 3 militants, it is time for heads to roll. We can't afford a state of impunity,'' Lone tweeted.
(With inputs from Sudhi Ranjan Sen in New Delhi)