2007 Ajmer blast case: Swami Aseemanand acquitted, three people convicted
Mar 08, 2017 10:28 PM IST
A special court in Jaipur acquitted on Wednesday former Rashtriya Sawamsevak Sangh (RSS) pracharak Swami Aseemanand and one other person in the 2007 Ajmer Dargah bomb blast case. Three other accused were convicted.
A Jaipur court on Wednesday convicted three persons but let off former RSS member Aseemanand and six others in the 2007 Ajmer Dargah blast case in which 26 witnesses turned hostile.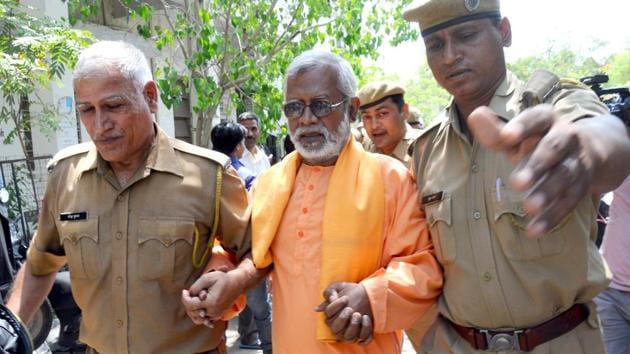 The quantum of punishment will be decided on March 16.
Three persons were killed and 15 injured in an explosion at the famous shrine of Sufi saint Khawaja Moinuddin Chisti in Rajasthan's Ajmer on October 11, 2007.
NIA court judge Dinesh Gupta found Rashtriya Swayamsweak Sangh members Sunil Joshi and Devendra Gupta guilty of planning the blasts – one of the two bombs didn't go off -- and Bhavesh Bhai Patel of planting the explosive.
The court acquitted Aseemanand, also an accused in the Samjhauta Express and Mecca Masjid blasts, and others, giving them the "benefit of doubt".
The three blasts, within months of each other, came to be known as acts of Hindu terror -- a term that triggered a furious political debate --- because of the arrests of the members of the right-wing outfits.
"We will examine order of the court and take a call accordingly in due course. At the moment, it will be too premature to say anything," NIA director-general Sharad Kumar said.
The National Investigation Agency took over the probe from the Rajasthan anti-terrorism squad. Initially, police blamed Islamic terror groups but later a confession by Aseemanand shifted the focus on Hindu groups.
A total of four charge sheets were filed.
Gupta and Joshi were members of the RSS and worked together in Madhya Pradesh's Indore and Mhow from 1998 to 2003, one of the charge sheets said.
A native of Ajmer, Gupta moved to Jamtara in Jharkhand in 2003 and stayed there till 2008 but the two kept in touch and met several times till Joshi's death in 2007, the court was told.
Joshi was shot dead on December 29, 2007.
The SIM cards and the mobile phones used for detonating the two bombs were bought from Jharkhand, where Gupta was working as an RSS zila pracharak, or district head of publicity. Public prosecutor Ashwini Kumar Sharma said 26 witnesses, crucial to the case, turned hostile.
"The court did not find Aseemanand's confessional statement a basis enough for his conviction. Notably, Aseemanand retracted his statement three months after giving it," Sharma said.
Aseemanand was a victim of political conspiracy, his lawyer Jagdish Rana said. "There was a conspiracy to frame a person from a particular community for a particular kind of crime," he said.
Of the 13 accused, three are still absconding.
A member of right-wing Hindu group Abhinav Bharat, Assemanand has been in jail since December 2010 after his arrest in the Mecca Masjid blast. The explosion in the Hyderabad mosque on May 18, 2007 left 14 people dead.
He also faces charges in the 2007 Samjhauta case. Sixty-eight people were killed on February 18, 2007 when explosions ripped through the express train that runs between India and Pakistan