23 arrested after 5 'child lifters' beaten to death in Maharashtra's Dhule
Jul 02, 2018 09:06 PM IST
Five people were lynched to death by villagers in Dhule district on Sunday, on suspicion of being child-lifters.
Twenty-three people were arrested in connection with the lynching of five people by a mob in Dhule district over suspicion that they were members of a gang of "child lifters", a senior police officer said today.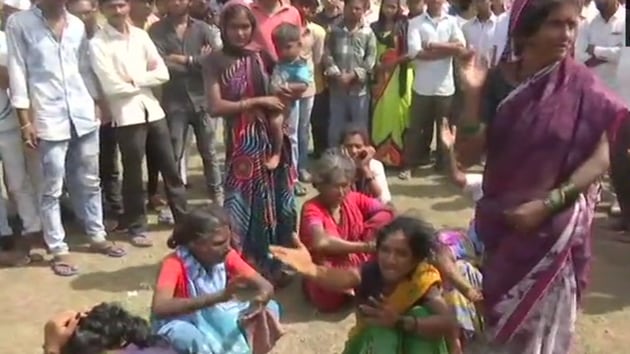 "We have arrested 23 people in connection with the incident. A few more have been identified and five teams have been formed to nab them," Dhule Superintendent of Police (SP) M Ramkumar told PTI.
The incident took place on Sunday and all the five victims were identified, the IPS officer said.
"All the deceased hailed from Solapur and belonged to a nomadic community. They had come in search of livelihood due to a drought-like situation in their district," he added.
Those arrested have been booked under IPC section 302 (murder) and the sections pertaining to rioting.
The incident took place at the tribal hamlet of Rainpada, 25 km from Pimpalner in Dhule district, the police said.
The five victims, along with a few others, were seen getting off a state transport bus at Rainpada, they added.
When one of them apparently tried to speak to a six-year-old girl, the villagers, who had gathered there for the weekly Sunday market, pounced on them, thrashing them with stones, sticks and chappals.
According to the police, rumours that a gang of child lifters was active in the area were doing the rounds of social media.
Maharashtra Congress chief Ashok Chavan alleged that the lynching incident in Dhule was a result of the "inefficiency" of the BJP-led state government and police administration.
"In a similar incident in Jalgaon district, a BJP MLA was part of a mob assault on some people, who were thought to be child lifters," the former Maharashtra chief minister said.
Meanwhile, video clips of the purported incident, aired by some TV channels, showed the victims being thrashed with slippers, before being dragged to the Rainpada gram panchayat office, where they were beaten up with sticks.
Minors were also seen punching, kicking and dragging the victims by their collars.
In one of the clips, a victim was seen pleading for help, while the bloodied bodies of the other four were lying on the floor.
Earlier this month, two persons were lynched at Chandgaon village in Vajipur taluka of Aurangabad on suspicion of being robbers.
Similar cases have also been reported from various other states, including Assam, Jharkhand, Chhattisgarh, Gujarat and Telangana, in the recent past.