37-year-old Telangana fluorosis activist dies after accident
Jan 28, 2023 04:36 PM IST
Telangana Fluorosis Vimochana Samithi convenor Subhash Kanchukatla told HT that Swamy fell from his battery-operated wheelchair while climbing up the ramp at his house on Friday evening
Fluorosis-affected social activist Amshala Swamy, 37, who fought for the eradication of the debilitating disease in Telangana's Nalgonda district, died amid an injury due to an accident at his residence at Shivannagudem village on Saturday morning.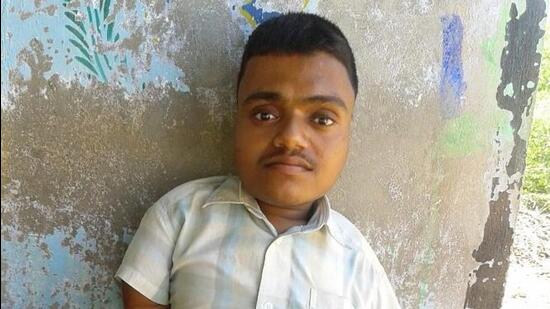 Telangana Fluorosis Vimochana Samithi convenor Subhash Kanchukatla told HT that Swamy fell from his battery-operated wheelchair while climbing up the ramp at his house on Friday evening.
"He was alright till Saturday morning, he suffered blood vomiting and collapsed at around 8.30am. We rushed him to the local hospital, where he was declared brought dead," Kanchukatla said.
Also Read: 11 injured in attack on excise officials in Bihar's Bhojpur
Swamy, who was born with skeletal fluorosis disease resulting in a shrunken body and curved limbs because of the presence of high fluoride content in the drinking water in his village, was at the forefront of the protests of Nalgonda Jala Sadhana Samithi, an NGO fighting for safe drinking water in the district.
He shot into national headlines in 2002, when the representatives of Jala Sadhana Samithi took him to Delhi and placed him on the table before then Prime Minister Atal Bihari Vajpayee to highlight the severity of the issue.
Swamy was also part of several delegations of fluorosis victims who met several chief ministers to represent the plight of fluorosis victims in the district.
"Because of the agitations waged by Swamy and others, the Telangana government took steps to bring safe drinking water to the doorsteps of every fluoride-affected village in the district," Kanchukatla said.
Subhash, who was unmarried, was eking out a livelihood by running a telephone booth in the village. Last year, the Telangana government got him a double-bedroom house and granted him financial assistance to run a salon.
In October 2022, while going to Munugode to take part in the by-election campaign, Telangana industries and IT minister K T Rama Rao visited Swamy's house for lunch.
Sharing the picture on Twitter on Saturday, KTR condoled the death of Swamy who, he said, was a fighter who championed the cause of fluorosis victims.
Also Read: Five including doctor couple die in fire at hospital in Jharkhand's Dhanbad
"My Heartfelt condolences to the family of Sri Amshala Swamy Garu who passed away today. He was a fighter who championed the cause of Fluorosis victims & an inspiration to many. He will always remain close to my heart. May his soul rest in peace," the minister tweeted.
Telangana chief minister K Chandrasekhar Rao also expressed condolences on the death of Swamy. In a statement, KCR recalled that Swamy was synonymous with fluorosis which emerged as a big social menace in Telangana in the erstwhile united Andhra Pradesh.
"Swamy's struggle with a humane approach is an inspiration to many during the Telangana struggle," he said.