6-year-old girl in coma after being raped in Odisha school
Hindustan Times, Cuttack |
, Cuttack
Debabrata Mohanty
Apr 23, 2018 11:30 PM IST
Police said the six-year-old girl who was raped has suffered deep injuries on her face and brain.
A six-year-old girl who was allegedly raped and abandoned on the verandah of school by a neighbour in Odisha's Cuttack district on Saturday evening has slipped into coma in hospital.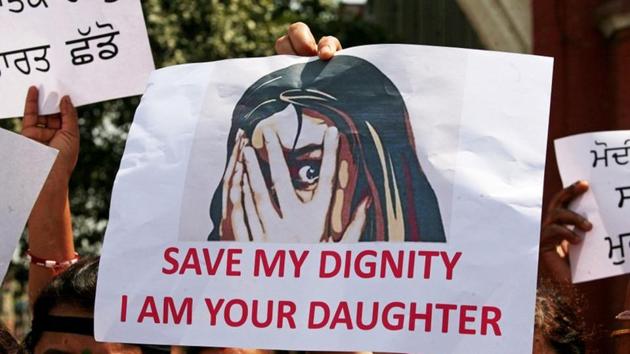 "She has suffered deep injuries on her face, and her brain due to throttling," said the superintendent of the hospital where she is admitted. "We are trying our best," he added.
Incidentally, the child's family was planning to enrol her in the same school in Class 1 this year. "She is a shy child. I wonder why this monster thought of assaulting her," said her mother, who is six months pregnant and has two more children.
Odisha health minister Pratap Jena, who visited the hospital on Monday, said the state government will bear her treatment cost.
Police have arrested the accused, a 25-year-old man, who allegedly lured the child to a shop in their village with the promise of chocolates. The child and the accused are from a minority community.
"He bought the child a chocolate worth ₹5 and five toffees from the shop and took her to the school, where he allegedly tried to have sex with her," said the inspector investigating the case.
Based on what the accused said during questioning, the inspector said the child cried out when he was sexually assaulting her and he panicked. "The accused allegedly choked her and banged her face on the school wall three times. Then he left her there, thinking she had died," the inspector added.
Though the forensic report is yet to be received, doctors treating the child said her there were injuries on her private parts.
The child's mother said there was a power cut in the village on Saturday evening, when her daughter stepped out of the house. "When I looked for her after a few minutes, she was gone," she added. The child's father works as a cook outside the state.
When the child's family and villagers started looking for the child, the accused joined them in the search, said police. "He tried to avoid suspicion, but talking to the child's family and villagers led us to him as the accused," said the inspector.
Police have booked the accused for rape, attempt to murder and under the Protection of Children from Sexual Offences (POCSO) Act. Police produced the accused in court, which rejected his bail plea and sent him to judicial custody. Police said they would try to file the charge sheet in the case in less than 60 days.
Odisha police have received 10 complaints of sexual assaults of minors in the last seven days