9 kids drown during idol immersion in Bhagalpur; NDRF rescues 5 after boat tragedy in flood-hit Bihar
Hindustan Times, Patna/Bhagalpur |
Ruchir Kumar and Avijit Biswas
Aug 28, 2017 01:59 PM IST
While nine children drowned during idol immersion in Bhagalpur, the NDRF was able to save five lives after a boat tragedy in Bihar's flood-hit Muzaffarpur district.
Nine children drowned in Bhagalpur during idol immersion on Sunday even as the National Disaster Response Force (NDRF) rescued five people, precariously perched on trees, after their countrymade boat sank in Musahri block of Bihar's flood-hit Muzaffarpur district last Friday.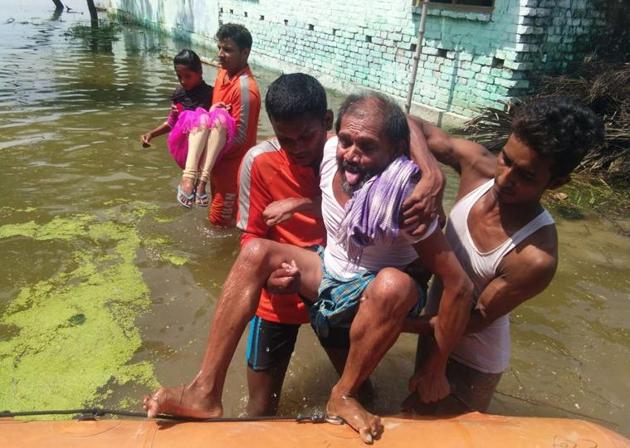 The children had gone for idol immersion as culmination of Ganesh Chaturthi festivities on Sunday when nine of them drowned at a pond in Marhwa village under Jhandapur police station area of Bhagalpur. The children had travelled nearly 4 kms from their adjoining village Korchakka under Bihpur police station area for the idol immersion.
Naugachchia superintendent of police Pankaj Sinha said all the bodies had been recovered and the rescue operation called off. The bodies were fished out by divers, who were requisitioned from adjoining Khagaria district.
The deceased have bene identified as Niranjan Yadav (14), Chhotu Kumar (10), Pintu Kumar (13), Rahul Kumar (12), Saurabh Kumar (15), Vishal Kumar (13), Pantesh Kumar (14), Saurabh Kumar-II (13) and Nanku Kumar (14).
Angry villagers on Monday blocked road connecting the two villages, demanding compensation for the next of kin of the deceased.
Meanwhile, the NDRF successfully rescued five precious lives after a civilian boat they were travelling in sank in flood-hit Muzaffarpur on Friday.
Commandant of NDRF 9th battalion, Vijay Sinha, said his men, positioned in Musahri block of Muzaffarpur, rushed as soon as they got information about a boat tragedy in the area at about 8.25am on August 25. The country boat was going from Narauli to Mainkya village when it met with an accident, before reaching the mainstream of Burhi Gandak river, which is in spate.
The lives of the victims hung by a thread, as they managed to latch on to branches of two trees. Their village inundated, they were moving to safer places with some of their household belongings, including livestock, when tragedy struck. One of the youths balanced himself on the overturned boat as the NDRF squad, led by team leader Deepak Kumar Pandey, rescued them in the nick of time.
Those rescued were identified as Mohammad Habib (60), Jamila Khatoon (57), Md Gulab (30), Md Saddam (27) and Md Ayub (19). The NDRF also rescued two goats with them.
As many as 1.71 crore people in 19 districts of Bihar were still affected by the deluge, which had so far claimed 482 lives.
A total of 187 blocks and 2,371 panchayats were affected by flood, a communique by the Bihar State Disaster Management department said. With flood water receding, the number of relief camps had come down to 222, where 1.44 lakh people had taken shelter.
Araria district alone accounted for 95 deaths, followed by Sitamarhi (46), Purnea (44), Katihar (40), West Champaran (36), East Champaran (32), Darbhanga (30), Madhubani (28), Madhepura (25), Kishanganj (24), Gopalganj (20), Supaul (16), Saran (13), Muzaffarpur (9), Saharsa (8), Khagaria (8), Sheohar (6) and Samastipur (2).