After Gorakhpur, 3 kids die in Raipur hospital; oxygen supplier arrested
Updated on Aug 21, 2017 09:26 PM IST
Hospital sources said the children died between 12.30am and 1.30am on Monday and that the oxygen pressure was low for 30 minutes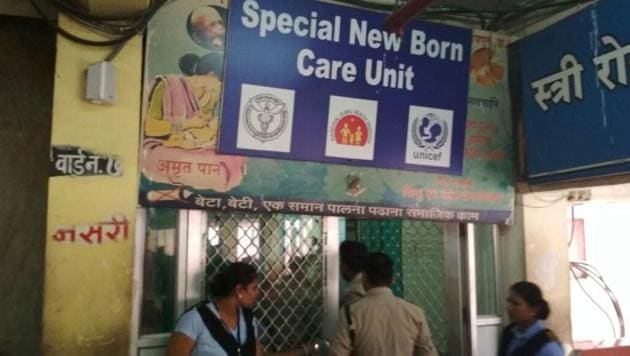 Chhattisgarh chief minister Raman Singh ordered a probe on Monday into allegations that three newborn children died at Raipur's BR Ambedkar hospital after a fall in oxygen pressure.
The chief minister expressed his regret but authorities said the children – all of whom were on ventilator in the neonatal intensive care unit – died of various heart and respiratory complications. Families alleged that the children died of irregularities in oxygen supply and that no post-mortem examination was done.
"No one responsible for this tragic incident will be spared," the chief minister told reporters.
Police arrested a hospital employee, Ravi Chandra, who was in charge of the oxygen supply between 2pm and 8pm after doctors found a drop in gas pressure around 5pm on Sunday. Hours later, Chandra was found inebriated and booked for laxity in discharging his duties. All three children died between 12.30pm and 10pm on Sunday.
This comes days after the death of at least 23 children in 24 hours in a state-run hospital in Gorakhpur, allegedly because of a snag in oxygen supply. Uttar Pradesh government has denied the charges and blamed the deaths on encephalitis, but has received widespread criticism for the poor infrastructure of Baba Raghav Das Medical College, which sees hundreds of similar deaths every year.
Families of the three deceased claimed that a drop in oxygen pressure was the reason for the deaths.
"Some people here told that there was some problem in oxygen cylinders, which could be the reason behind the death. When my son died last evening why the body was not given to me till now?" asked Prakash Vishkarma on Monday evening.
State health secretary Subrat Sahoo denied the allegations but admitted to a low pressure situation in the oxygen reservoir for 15 minutes. "These deaths have no connection with the so called disruption of oxygen supply," he told reporters.
"Around 5 pm yesterday, a doctor in the paediatric unit observed that oxygen volume level in the reservoir (main oxygen tank) was low. Although there was no disruption in oxygen supply, the doctor immediately tried to contact Ravi Chandra but he could not be reached," Sahoo said.
But this explanation failed to impress opposition parties, who alleged that the government was trying to cover up its negligence.
"How did the authorities conclude that the kids died not because of oxygen snag when postmortem was not done? We are demanding magisterial inquiry," Congress state chief Bhupesh Baghel told Hindustan Times.