India has exposed itself to Beijing's interference in J-K by sending troops to Donglang: Chinese state media
If the Pakistani government requests, a third country's army can enter the area disputed by India and Pakistan, including India-controlled Kashmir, says an article in Global Times.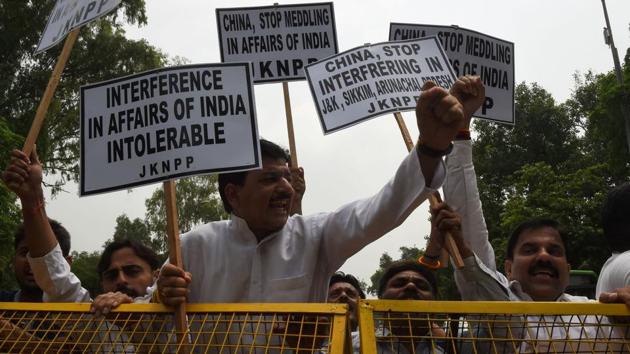 Updated on Jul 10, 2017 12:18 AM IST
Hindustan Times, Beijing | By Sutirtho Patranobis
, Beijing
India has exposed itself to China's interference in Jammu & Kashmir by sending Indian troops to disrupt Chinese soldiers from building a road in the Donglang region, the state media said on Sunday.
If Pakistan requests, "a third country" can dispatch soldiers to the Valley, said an article in the nationalist tabloid Global Times, adding that Indian soldiers "invaded" China's Donglang (or Doklam) to serve India's interests, not Bhutan's.
"Even if India were requested to defend Bhutan's territory, this could only be limited to its established territory, not the disputed area. Otherwise, under India's logic, if the Pakistani government requests, a third country's army can enter the area disputed by India and Pakistan, including India-controlled Kashmir," said the article written by Long Xingchun, director of the Centre for Indian Studies at China West Normal University.
Indian and Chinese border troops are locked in a standoff in the Donglang region, near the Sikkim border, which is controlled by China but is also claimed by Bhutan.
Interestingly, China has repeatedly said that Donglang is part of its territory since "ancient times"; it's for the first time that a Chinese academic said it is actually "disputed".
"Indian troops invaded China's Doklam area in the name of helping Bhutan, but in fact the invasion was intended to help India by making use of Bhutan," Long wrote. "India controls Bhutan's defence and diplomacy, seriously violating Bhutan's sovereignty and national interests. Indians have migrated in large numbers to Nepal and Bhutan, interfering with Nepal's internal affairs. The first challenge for Nepal and Bhutan is to avoid becoming a state of India, like Sikkim," the article added.
Long wrote about India's "hegemonic diplomacy" in south Asia and claimed New Delhi's policies have violated international laws and norms.
"For a long time, India has been talking about international equality and non-interference in the internal affairs of others, but it has pursued hegemonic diplomacy in South Asia, seriously violating the UN Charter and undermining the basic norms of international relations," he wrote.
"Through mass immigration to Sikkim, ultimately leading to control of the Sikkim parliament, India annexed Sikkim as one of its states," the article said.
Referring to the Siliguri Corridor that connects mainland India to the states in the northeast, the article said it was New Delhi's concerns about the geographical connection that triggered the standoff.
"This incursion reflects that India fears China can quickly separate mainland India from northeast India through military means, dividing India into two pieces. In this case, northeast India might take the opportunity to become independent," the article said.
It added: "India has interpreted China's infrastructure construction in Tibet as having a geopolitical intention against India. India itself is unable to do the same for its northeastern part, so it is trying to stop China's road construction."
Close Story