'Agnipath': IAF receives nearly 57,000 applications; Cong continues protests
Updated on Jun 27, 2022 03:58 PM IST
Prime Minister Narendra Modi announced the Agnipath scheme on June 14 to enlist the youth in the Indian armed forces, who will be referred to as 'Agniveers' post induction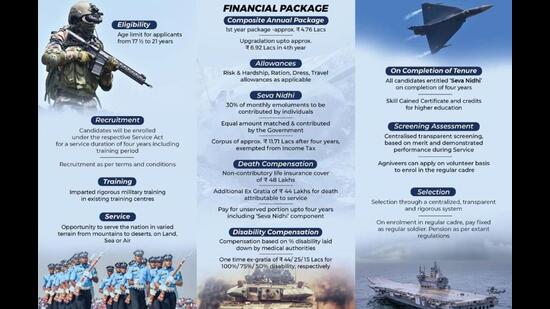 Amid nationwide protests by the Opposition, the Indian Air Force (IAF) said that as of Monday they have received 56,960 applications since the official launch of the Agnipath recruitment scheme for the armed forces.
"56960! That's the total number of applications received till date from future #Agniveers in response to the #Agnipath recruitment application process of agnipathvayu.cdac.in," the IAF said on Twitter.
They also shared information regarding the recruitment process, training and service information, financial package and other benefits the scheme provides. The registrations will close on July 5.
IAF's recruitment through the Agnipath Yojana 2022 began on June 24 and it received a resounding response within just three days, contrary to the violent protest by youths across the country. The armed forces have categorically said that whoever has indulged in violent protests and arson will not be inducted under the military scheme.
Also read:The impact of Agnipath
Prime Minister Narendra Modi announced the Agnipath scheme on June 14 to enlist the youth in the Indian armed forces, who will be referred to as 'Agniveers' post induction.
Under the scheme, youths will serve a four-year tenure, after which 75 percent will be given volunary retirement. This triggered massive protests and arson in over 10 states, with protestors setting trains on fire, torching vehicles, and damaging both private and public properties.
The Congress continued its nationwide protests, calling 'Agnipath' the Centre's new "dictatorial" recruitment scheme.
"As a responsible political party, the Congress stands with the youth of the country. We demand that this Tughlaqi decision (of Agnipath) be withdrawn," party spokesperson Shaktisinh Gohil said on Sunday.
Personalise your news feed. Follow trending topics