An insider speaks on Sukma Maoist attack: Why CRPF personnel are sitting ducks
May 10, 2017 10:48 AM IST
Monday's Sukma attack, which occurred between the Burkapal-Chintagufa area in the Maoist hotbed of Bastar, is the worst in seven years. In 2010, rebels killed 75 CRPF troopers in the same region.
The CRPF's loss of 25 personnel in a Maoist ambush in Chhattisgarh's south Sukma region on Monday is the second fatal reverse for the force in two months. The slain Central Reserve Police Force (CRPF) troopers were part of a team providing security to workers building a road.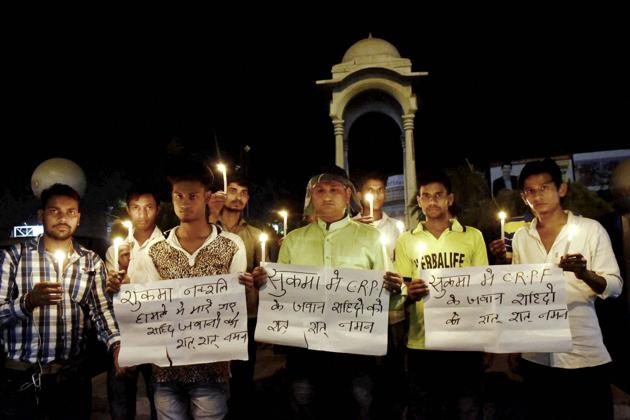 Road opening parties of CRPF — known popularly as ROPs — are crucial to getting roads built in the Maoist-affected areas of Bastar. Maoists executed the Monday attack after serving a chilling reminder of their strike capabilities on March 11 — killing 12 CRPF troopers as well as stalling work on a crucial road.
Here is what a senior ROP officer told HT, listing the challenges and difficulties CRPF personnel on road opening duties face.
1. There is no surprise element. Many know when ROPs move.
2. Only 25% of the force is on a road, the rest move alongside, away from sight. If there is a hill or ditch in the middle of a jungle, it becomes difficult to move. Maoists consider such places best to mount an ambush.
3. There is iron ore here and mine detectors always go off. It is difficult to locate bombs and Maoists take advantage.
4. In summers, Maoists plant pressure bombs beneath trees to target security personnel looking to catch their breath.
5. Maoists see lunch time as an opportunity to strike because staff often gather around a tree to have food together and unwind. Maoists mounted Monday's attack when the security party was having lunch.
6. This is very monotonous job and there is no reward. You save many lives by detecting bombs, but one slip means the entire fault is yours. It is like a goalkeeper's job.
7. It is a very difficult job because you are out in the sun in very difficult conditions. Unlike in most combing operations, you don't get the cover of night.
8. There is a problem of water in many camps in summer. Many personnel rarely take bath.
9. There is no telephone signal at many places and troopers feel stressed when they are unable to speak to their families and loved ones.
10. Mosquitoes are a perpetual problem.
(As told to HT. The officer declined to be named)