Armed with e-power, excited Vaishali rural women find freedom
Hindustan Times, Hajipur |
Rajesh K Thakur
Mar 01, 2017 10:06 AM IST
Delhi-based Digital Empowerment Foundation has tied up with Google and the Tata Trust to teach e-trading and e-banking to women across select districts of 27 Indian states, including six in Bihar.
The busy national highway 77 presents the normal sight of vehicles whizzing past. But the attention is never on it. At the small village market of Goraul, some 35 kms before Muzaffarpur, north Bihar's biggest trading hub, stood a gaggle of giggly women in their late 30s and 40s, haggling for false hair and ribbons. Each had a small priced mobile too - some of them brand new.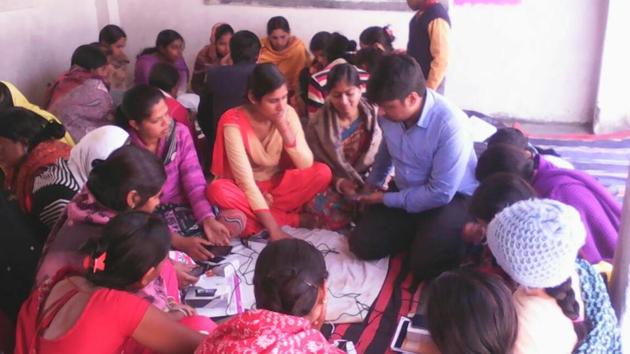 Half an hour later, the argument was completely different and educative.
Bargain settled, Shailaja Devi insisted on making an e-payment. The grocer refused since he did not know 'how' and insisted on cash. The argument followed.
"You don't know to accept mobile payment," Shailaja smiled, flashing her cellphone. Bhola Sah, 44, the grocer, did not know what had hit him following the tease. Menfolk around joined in - the tease continued.
After some laughter and mirth, which the women too enjoyed, they finally paid up in cash and left, leaving Bhola fiddling with his own mobile.
Shailaja, Basomati, Rupali, all belong to an emerging new breed of classic Bihari village woman, now suddenly finding themselves 'empowered' through the mobile. They find themselves on the highway of cash-less India. They are much more confident too.
Basomati explained: "We learnt from an agency how to make small transactions through mobile e-wallet. We do not need to carry cash anymore."
The women's initiative sprouts from a unique, small but meaningful approach by Delhi-based Digital Empowerment Foundation, which has tied up with Google and the Tata Trust to teach e-trading and e-banking to women across select districts of 27 Indian states.
They picked up six districts in Bihar - Vaishali, Darbhanga, East and West Champaran, Gopalganj and Jamui. Eighteen lakh women in Bihar, inclusive of those in 10 blocks of Vaishali, were the target beneficiaries identified for e-empowerment.
Now, with a 3000-strong pool of internet and e-banking savvy women personnel, christened 'Internet Saathis', the organisation has moved into 'direct contact' with women to train them digitally through various apps to beat the demonetisation blues. Some 6,000 Bihar villages have been targeted in the six districts for spread e-banking.
"In Bidupur block of Vaishali district, the training to women in internet banking and other activities has ushered dividends. There has been an enthusiastic response," said Irfan Khan, project in charge of Bihar and Madhya Pradesh. "It helps that women need not go to town for their buys and that they can make payments up to Rs 5000, or in change, sitting at their own doorsteps," he said.
"Certainly, teaching women the rudiments of e-payment has helped spread the cycle to menfolk and cut down on commute from rural interiors to town, with positive impact of quality of life and time that can be put to productive activity," say trainers.
Rupali for instance, said she was shaky at first. Would the money paid really land where intended? But she could not believe her eyes when it did. And the first experience was 'exhilarating." That's the way she described it to her own kids, just 9 and 11, in childlike glee. "They too were excited, so I bought them some biscuits, using e-payment," she said.
Says Khan, "Women do not need to move from bank to bank, or to deposit, gas payments, groceries, land holding charges, power bills, etc. The two-day training has imparted skills that help save time for household chores and they are happier."
As for the internet 'saathis' who get paid Rs 1000 as incentive, the experience has been as overwhelming as to 'young learners', said Mohammad Siddiqui,regional manager of Digital Empowerment Foundation.
He said, the training has been completed in villages of Mahua, Desari, Mahnar,Goraul, besides Bidupur and Lalganj blocks and more villages would come in the ambit of the drive soon.