Army files its version of Shopian firing that killed 3 civilians
Hindustan Times, Srinagar |
Ashiq Hussain
Feb 01, 2018 07:12 AM IST
The army's written rebuttal came after police decided to investigate the role of several army personnel of the 10th Garhwal battalion, including a major in the incident.
The Indian army on Wednesday gave the Jammu and Kashmir police their version of the January 27 incident in Shopian in which three civilians were killed, and filed a compliant in response to a police FIR against the army's 10th Garhwal battalion.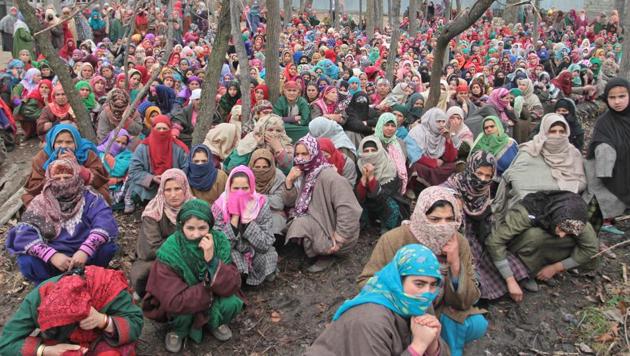 The FIR, filed on Sunday, accuses the unit of murder, attempt to murder and endangering life under the relevant sections of the Indian Penal Code.
"We have received (the) army's version of the complaint and it has been made part of the file," Shopian's senior superintendent of police Ambarkar Shriram Dinkar said.
"There has been no separate FIR but their version is taken on record," he added, declining to reveal further details of the army's complaint.
A person familiar with the matter in the army, however, said the events described in the complaint were similar to the original statement issued by the army last week.
The statement, released on January 27, had said that the soldiers had fired on protesters in "self-defence" to prevent the lynching of an officer, the snatching of weapons by villagers, and the burning of their vehicles.
Lt Gen D Anbu, commander, Northern Command, told news agency ANI that the army had conducted its own probe into the incident and arrived at the conclusion that the soldiers had to resort to firing after they were "provoked to the ultimate".
Eye-witnesses in Ganawpora village, where the incident took place, have alleged that soldiers fired after a confrontation with villagers over the removal of a banner and a militant's poster.
Suhail Lone and Javid Bhat, both in their 20s, were killed on Saturday while Rayees Ahmed Ganai succumbed to his injuries on Wednesday.
The FIR against the army has kicked up a storm in the state and led to a public differences between coalition partners Peoples Democratic Party (PDP) and Bharatiya Janata Party (BJP).
After BJP lawmakers on Monday demanded withdrawal of the FIR again, chief minister Mehbooba Mufti said it was the duty of the government to take the FIR to its logical conclusion. The state government has also ordered a magisterial probe into the incident.
.