Around 105 died, but 'Twitter king' Modi didn't mention it: Lalu on demonetisation
Published on Dec 22, 2016 06:22 PM IST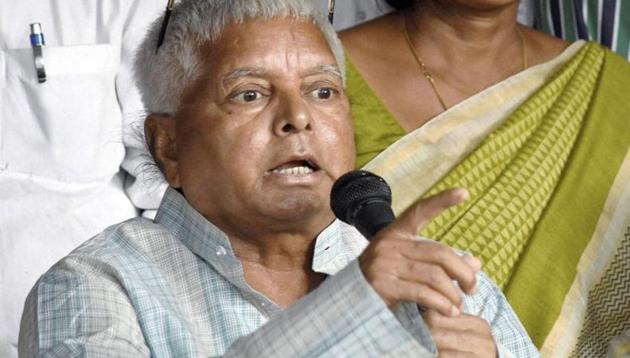 RJD chief Lalu Prasad Yadav on Thursday attacked Prime Minister Narendra Modi over 105 deaths across the country allegedly due to demonetisation and advised him to at least "condole the deaths".
"About 105 people died but the 'twitter king' (Modi) didn't tweet on it. It is understood that it happened due to your mistake, but you should have at least paid tribute. Isn't it," the Rashtriya Janata Dal supremo said.
The RJD leader's tweeted remarks came soon after Gandhi on Wednesday alleged that Modi got Rs 40 crore in kickbacks from a corporate house when he was the Gujarat chief minister -- a charge vehemently denied by the BJP.
Lalu also demanded a probe by a Supreme Court Judge into the matter.
Attacking Modi, the RJD chief in a series of tweets said, "PM must give explanation on the allegations made against him... He shouldn't remain silent."
"Rahul Gandhi has alleged Rs 40 crore corruption charges on Modi with evidences. This is not an ordinary thing," he wrote.
"Fakir never hides anything, they live a transparent life. Fakir saheb (Modi) must give the accounts of Rs 40 crore or else the people would loose faith from Fakir and Fakiri," he said.
"Someone has accused the so-called honest Prime Minister of corruption and he remained silent. The image of India is tarnished internationally," he added.
Lalu is all set to stage protest against demonetisation at all the district headquarters in Bihar on December 28 and hold a huge rally in Patna early next year.
Though Bihar chief minister Nitish Kumar has supported the demonetisation he has been critical of its implementation, and is likely to join the protests.
Close Story
Personalise your news feed. Follow trending topics