Arun Jaitley says cleaning up political funding next big reform after GST
Jul 05, 2017 11:01 PM IST
Prime Minister Narendra Modi has been insisting on this reform and it will be taken as a top priority as there is strong public support for it, the finance minister said.
After rolling out goods and services tax (GST), the government will take up "cleansing" of political funding as its top priority, finance minister Arun Jaitley said on Wednesday.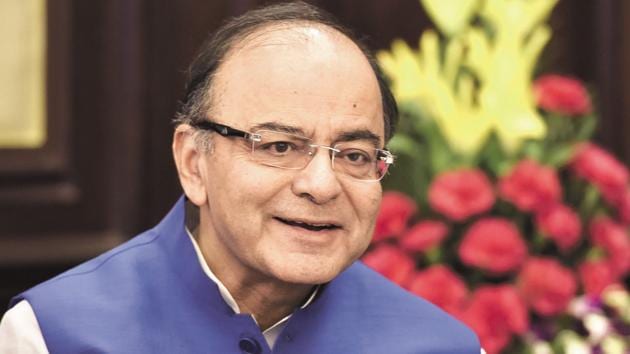 "In the immediate future, after GST process is complete ...we are looking forward for some major steps to be announced by which we want to cleanse the whole process of political funding," the minister said.
Noting that the current system of political funding, which has prevailed for over 70 years, does not bring any credit to the world's largest democracy, he said Prime Minister Narendra Modi has been insisting on this reform and it will be taken as a "top priority" as there is "strong public support" for it.
In the Budget, Jaitley had announced electoral bonds as a form of making donations to political parties instead of cash. A media report yesterday said government was through with the drafting of the rules in this regard and would begin consultations soon.
The outgoing chief election commissioner Nasim Zaidi had, however, raised concerns over the move, saying such bonds will have a negative impact on efforts to bring about transparency in political funding.
Meanwhile, Jaitley termed the passage of the GST resolution by the Jammu and Kashmir assembly a victory for consumers despite opposition from separatists elements.
"Consumers have eventually prevailed. Consumer viewpoint is why should I pay tax twice over," he said, welcoming the state Assembly's decision earlier in the day to join the rest of the nation on the GST platform which would unify the whole country as single market.
Jaitley said GST roll out, coupled with last year's demonetisation exercise, should improve the tax base and also the tax-to-GDP ratio. The note-ban added 92 lakh tax payers to the 3.34 crore base, he said.
Jaitley said certain sections, including traders and some manufacturers, are protesting against GST because of fear of them having to disclose their true trade volumes.
"They are objecting primarily because the volume of their business would be known and this time around they will also have to file direct tax returns," he said, conceding that three-four sectors are protesting against GST.
The minister said barring these protests, there have not been any disruptions since July 1 when GST was rolled out.
The exercise, he said, turned out to be smoother than expected.
"We anticipated huge disruptions. But we did not see any significant amount of disruption being caused. The switchover so far has been relatively faster than expected," the minister said.
The consumer has not protested, he said, asserting that public opinion in a deeply aspirational and an impatient nation supports reforms that are essential for development.
He said the government was able to pass the Insolvency and Bankruptcy Code in a record time and the direction in which the economy is moving is not reversible for any future government.
The government will be focusing more on infrastructure development going forward, he said, identifying housing, sanitation and rural irrigation as areas which need attention.
"Hopefully, with increased and improved resources resulting out of a higher growth rate, our capacity to spend in these areas will improve," he said, adding education and healthcare also require attention.