Arunachal borders Tibet, not China: CM Pema on Beijing's protest over Dalai Lama
Apr 05, 2017 04:20 PM IST
Arunachal CM Pema Khandu, who escorted the Dalai Lama from Guwahati to Bomdila, said it was a brave decision on the part of the spiritual leader to take the arduous trip.
Arunachal Pradesh chief minister Pema Khandu said on Wednesday Beijing has no right to threaten Delhi on the 14th Dalai Lama's movement within the country as India shares boundary with Tibet and not China.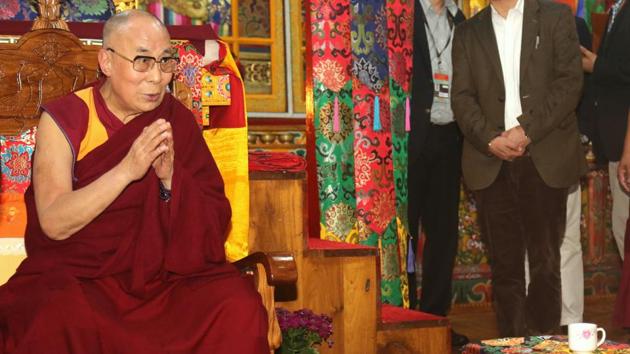 The Dalai Lama reached Arunachal Pradesh on Tuesday for a week-long visit on the invitation of the Bharatiya Janata Party-ruled state government.
Stay tuned with breaking news on HT Channel on Facebook.
Join Now
China has been warning India against allowing the 81-year-old Tibetan leader to visit Arunachal, which it claims to be part of south Tibet, for almost a month now, saying it will cause "serious damage" to bilateral ties.
Khandu said: "Let me get this straight. China has no business telling us what to do and what not to do because it is not our next-door neighbour."
He explained that the McMahon Line, in reality, demarcates the boundary between India and Tibet. Arunachal Pradesh shares a 1,080km stretch of this line.
China claims about 90,000 square kilometres in Arunachal Pradesh. Several rounds of talks have failed to make progress on the dispute, though there have been relatively few confrontations in recent years.
Tibetans seeking freedom of Tibet from China's "oppressive rule" have a similar view.
Many in Arunachal Pradesh disapprove of India's acceptance of the McMahon Line as the 'India-China border'. The department of border management of the ministry of home affairs says India's border with China is 3,488km.
Khandu, who escorted the Dalai Lama in a convoy of SUVs from Guwahati to Bomdila involving an eight-hour drive, said it was a brave decision on the part of the spiritual leader to take the arduous trip.
"He wanted to reach Tawang anyhow, and the weather could not deter him. Let's hope his followers in Arunachal Pradesh get satisfaction from his discourses," Khandu said before the Dalai Lama began the first of a series of spiritual teachings at Bomdila on Wednesday morning.
The chief minister said the Dalai Lama has been India's most venerated guest since 1959, and Arunachal Pradesh – for nostalgic and religious reasons – deserves his visit more than anywhere else.
This is the Dalai Lama's sixth visit to Arunachal Pradesh as a state guest since 1983, and he touched Tawang every time except in December 1996.
The last visit in 2009 was planned exactly 50 years after he had passed through Arunachal Pradesh – then North East Frontier Agency – after escaping from Lhasa, the spiritual and political hub of Tibet.
In 2009, Pema Khandu's father Dorjee Khandu was the chief minister. They are from Tawang.